Sydney Airport and Ronald McDonald House Charities partner for Christmas fundraiser
Written by George Sensalis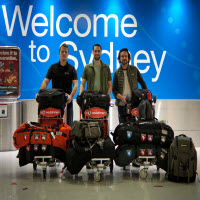 Sydney Airport announced Ronald McDonald House Charities as the charity partner for the 2015 Sydney Airport Community Christmas Giving Appeal.
"We're thrilled to partner with Ronald McDonald House Charities for the first time," Sydney Airport Managing Director and Chief Executive Officer Kerrie Mather said.
"With nearly 40 million passengers a year, the festive season is a particularly busy time at Sydney Airport, but it's also a great time to give back to those in our community who may be doing it tough.
"We'll be encouraging the 29,000 people who work at 800 businesses across the airport, as well as our passengers and visitors, to get involved in the appeal by participating, volunteering or donating in the lead up to Christmas."
Ronald McDonald House Charities Chief Executive Officer Malcolm Coutts OAM said the charity is looking forward to working with
Sydney Airport.
"Thousands of families with seriously ill children receive assistance from Ronald McDonald House Charities every year. Our 16 Ronald McDonald Houses provide a home away from home for families whose children are receiving lifesaving treatment at nearby hospitals, and we have several other essential programs, so we are very grateful for this support,"  said.
Funds raised through this year's appeal will go to Ronald McDonald House Charities to support children and families in need in our community, including at Ronald McDonald House Randwick near the airport.
"The funds raised by the appeal will go to Ronald McDonald House Charities' national programs, including Ronald McDonald House Randwick to assist with the upgrade of the family 'rest and reflect' area," Mr Coutts added. "We'd like to thank Sydney Airport for choosing us as their 2015 charity partner and we look forward to working together to raise much needed funds for seriously ill children and families during the festive season."
Last year's Sydney Airport Community Christmas Giving Appeal raised a record $263,000 for charity. The 2015 appeal will be launched at the airport in November and run for the six weeks leading up to Christmas Day, with events, entertainment, activations, decorations, promotions and retailer engagement.