Jet2 ban to include disabled electric wheelchair users
Written by Roberto Castiglioni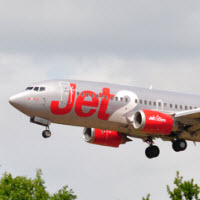 Some severely disabled wheelchairs users forcibly joined the list of passengers banned from flying with low cost airline Jet2.
In breach of disability discrimination legislation, Jet2 is the only UK and EU registered carrier to impose illegal weight limits on carriage of electric wheelchairs and scooters.
Owners of electric wheelchairs weighing more than 100 kilograms are not accepted for carriage on Jet2 flights. 
All other European airlines waived weight limits when legislation protecting the rights of disabled people traveling by air came into effect in 2008.
Electric wheelchairs easily weigh just over 100 kilos, with some of the most popular models of power chairs weighing around 110 kilograms.
Electric wheelchair users are not the only group of people with disabilities Jet2 openly discriminates against. The airline states on its website disabled passengers who fail to pre-book assistance may be denied boarding or may be forced to pay to rebook on a later flight.
This policy is also illegal as anti-discrimination legislation prohibits airlines to deny boarding on the ground of missing pre-notification, or to charge a rebooking fee where the flight is missed for reasons beyond the control of the passenger.
Jet2 is yet to comment on these discriminatory policies. However, their special assistance team confirmed wheelchairs exceeding 100 kilos are not accepted for carriage.
Do you travel with your personal wheelchair? Have you recently flown with Jet2? Post your comments on Reduced Mobility Rights Facebook page or tell us your story using the contact form.