Miss your flight not your wheelchair, Delta App bridges rebooking gaps
Written by George Sensalis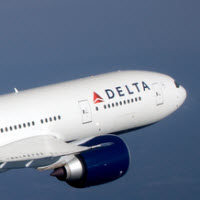 Long delays and cancellations cause havoc for people on connecting flights, even more so for those who request wheelchair assistance at the airport.
On Monday, Delta Air Lines launched the latest update of its "Rebook Me" service to further improve passengers' experience during flight cancellations and long delays.
The revolutionary system is available to Delta customers using the Fly Delta App and the airline's website at delta.com, and puts the passenger in full control of the rebooking process while avoiding people having to call in for support or face endless queues at airports. 
The Virtual Inconvenienced Passenger Expedited Reprotection (VIPER) system gives people using the Fly Delta App or online at delta.com a wider array of rebooking options during irregular operations.
VIPER allows passengers to select alternate origins or destinations for Delta-operated or Delta-marketed flights and allows for date
changes and time searches within the irregular operations rebooking window.
The system automatically makes seat assignments to ensure similar seating to the original booking. If the preferred seat is not available, VIPER will add the customer to the airport standby list.
A crucial feature of this new app is the fully automated transfer of special service requests like wheelchair assistance to the passenger's new itinerary. This is a major step forward as assistance requests are usually lost during manual rebooking.
During live testing, "Rebook Me" generated a success rate of approximately 85 per cent, a significant improvement compared to the performance of automated transactions prior to the testing period.
"By giving our customers who utilize the Fly Delta App and delta.com more options to choose their personal rebooking preferences, we will be able to help reduce call volumes and lines at the airports, all while enhancing the travel experience," Theresa Keaveny, Delta Air Lines Director of Reservations Support and Solutions said.