University Professor names and shames Heathrow services for the disabled
Written by George Sensalis
Stanford University Professor Jeffrey Pfeffer named and shamed London Heathrow airport services for disabled people in an article published on Fortune magazine.
At the time of travel, Professor Pfeffer was suffering from a serious back problem. "Last May, facing the prospect of climbing up long and steep steps to board a British Airways flight from London to San Francisco, I requested assistance," He writes in his article. "I didn't get any help boarding the flight, not even someone to help me haul my carry-on up the stairs."
Outraged by the lack of assistance, he filed a complaint with the UK Civil Aviation Authority. "I learned that I should have "pre-notified" the carrier that I needed assistance, assistance I did not foresee needing as I would have had no trouble had the flight boarded through a jetway like at a normal first-world airport."
Both Heathrow airport and its service provider OmniServ told Professor Pfeffer the same thing. "It was my fault for not anticipating a possible obstacle," he said.
OmniServ also told him that "factors such as late or early flights, queues at Immigration or Security, and the many other operational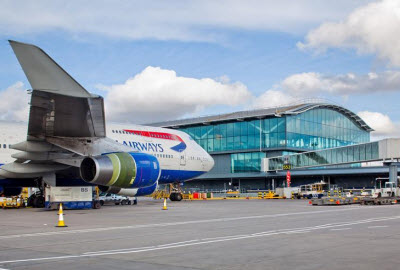 difficulties Heathrow Airport and BA face meant that accommodation and assistance is not assured."
Not happy with the responses received from Heathrow and the UK CAA, the angered professor filed a complaint with the Aviation Consumer Protection Division of the US Department of Transportation. 
Flights to the United States of America fall under the domain of the Air Carrier Access Act, the US law protecting the rights of passengers with disabilities. 
"The complaint to the U.S. Department of Transportation resulted in a finding that there was a violation of the Air Carrier Access Act," He says in his article.
"In this day and age airports should not give passengers with special needs incorrect information," Reduced Mobility Rights founder Roberto Castiglioni said. "Article 7 of (ec) 1107/2006, the rule protecting the rights of disabled people traveling by air, clearly states that airports "shall make all reasonable efforts" to help a disabled person get on a flight even when a pre-notification is not made."
The principle to give disabled passengers assistance irrespectively of their pre-notification is also clearly mentioned in the Interpretative Guidelines of 2012. "The Regulation requires assistance providers to take a proactive role in seeking to meet any request for assistance from disabled persons and persons with reduced mobility."
"I find it disturbing the Civil Aviation Authority joined Heathrow and OmniServ in giving Professor Pfeffer incorrect information and will make a point to raise the issue with CAA management," Castiglioni added. 
Source: Why disability rights is everyone's business