Esaag to launch Charter on meeting needs of disabled passengers
Written by George Sensalis
The easyjet special assistance advisory group (esaag) is set to launch the Pan-European Charter on Meeting the Needs of Disabled Air Travellers at the EU Parliament.
On Tuesday 21 April MEP Lucy Anderson and esaag Chair and former Home Secretary David Blunkett will host a Breakfast Briefing in the European Parliament to officially launch the Charter.
The number of disabled people travelling by air has been increasing steadily over the last five years, and continues to grow. European legislation came into effect from 2007 defining duties of airlines and airports and giving passengers with special needs a new set of rights. 
Eight years on, passengers requiring special assistance continue to encounter some issues when travelling, largely around the level of awareness of their rights and responsibilities, as well as inconsistent enforcement of the legislation across countries.
ESAAG members have developed a Pan-European Charter on Meeting the Needs of Disabled Air Travellers which sets out best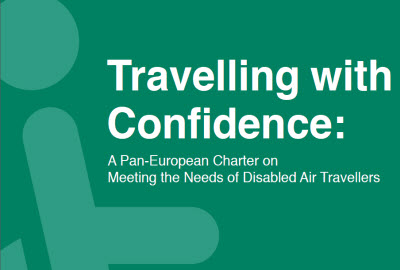 practice for airlines, airports, and policymakers to clarify some of these grey areas.
The Charter addresses key issues like what can be done to tackle varying implementation of the rules across countries and what role can EU policymakers play to bridge the knowledge and information gap that still exists for passengers.
"Wherever you go and however you travel, you should be able to expect the same quality of service and the same supportive assistance in every setting," David Blunkett said. "That means a code which is easily understood, accessible and of course, enforceable. A 'People's Europe' is one in which the European Union provides that backing and enforceable regulation and consumer rights.  For those requiring special assistance, this is not a matter of convenience but of critical necessity."
Jean-Louis Colson (European Commission, Head of Unit for Passenger Rights, European Commission's Transport Directorate), Federico Bonaudi (ACI Europe, Manager: Facilitation, Parliamentary Affairs & Regional Airports), Reginald Otten (easyJet, Commercial Manager), and Ann Bates OBE (ESAAG member) will join Lucy Anderson and David Blunkett for the panel discussion following the official presentation of the Charter.
Esaag was established to provide easyjet with strategic guidance and practical advice on the evolving needs of passengers with disabilities. Essag members review, discuss, challenge and seek to improve internal policies and procedures across the passenger's journey.
The group consists of well-respected independent experts and easyjet senior management. Reduced Mobility Rights director Roberto Castiglioni is a member of esaag and chairs the Airport Experience sub-group.