Munich Five Star airport gears up for busy summer season
Written by George Sensalis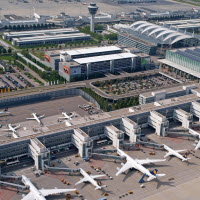 Known as Bavaria's gateway to the world, Munich International airport recently earned the prestigious Skytrax Five Star status.
Earning the title means Munich is the first European airport to join the exclusive club of world class airports. "Alongside the Asian airports Singapore, Seoul, Hong Kong and Tokyo-Haneda, Munich Airport is the fifth airport to join the five-star club, and the first in Europe," Munich Airport CEO Dr Michael Kerkloh said. "We owe this success not only to our hard-working project team, but ultimately to our entire airport workforce."
Some 39.7 million passengers arrived and departed Munich airport in 2014, up nearly three per cent from the previous year.  
The strongest growth was seen in the intercontinental segment including new services to Houston, Mexico City and Miami, where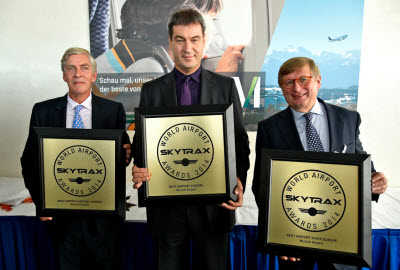 traffic increased by seven percent. Passengers travelling on routes within Europe and to destinations in North Africa were up nearly 3 percent.
Munich meets all defining criteria of Five Stars airports by providing a seamless high-quality journey along the entire travel experience. The criteria range from clear wayfinding and navigation to outstanding service, attractive shopping and dining, immaculate cleanliness and a modern ambiance.
To earn the status, Munich launched a quality offensive back in 2013 to develop and continuously improve its performance in the five categories "First-class ambiance and comfort", "Range of services and amenities", "Efficient processes", "Ease of transit through airport" and "Outstanding friendliness".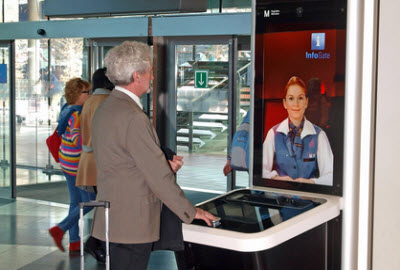 Helping passengers make their way around the airport was at the core of this quality offensive. At thirteen InfoGate counters throughout the airport, passengers can speak directly to information service staff who appear live on the screen. 
And at the approximately 70 InfoGate terminals, touchscreens can be used to request information on flights, navigation in the airport, shopping options and other services.
Barrier free access is a permanent feature of Munich airport. Visually impaired passengers arriving at Terminal 2's north bus and taxi curbside find a tactile guidance system at the middle of the three entrances on level 04. The guidance system leads to a desk for passengers with special needs, located in the central check-in hall.
Similar tactile guidance leads from one of the four München Airport Center entryways on level 03 to an elevator that accesses level
04. The markings continue to Lufthansa's special needs desk in the central check-in hall.
Both Terminal 1 and 2 feature wheelchair-friendly elevators for easy access between floors. In Terminal 1, wheelchairs can be loaned at information desks in the departure areas and at the main information desk in the München Airport Center. In Terminal 2 they can found by the information desk and near the special needs desk on level 04.
Refurbishments of Terminal 2 saw the introduction of new comfortable seating and reclining benches that combined with ambient lighting and attractive plant arrangements create a relaxed and pleasant environment for departing passengers.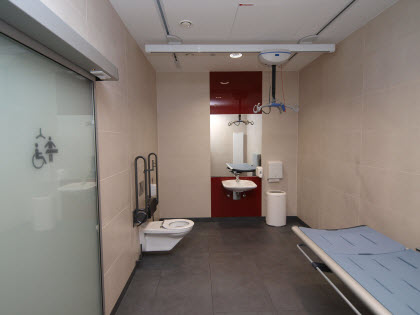 Munich also addressed one of the major issues passengers face at large airports. Departure areas in both terminals now feature plenty of electric outlets and USB connections for notebooks, tablets and mobile telephones. Since last year, Munich Airport gives unlimited Wi-Fi access free of charge.
Accessible toilets are available landside and airside in both terminals and are clearly marked. In Terminal 2, all air bridges have escalators and elevators to enable easy access between levels.
Munich was the first German airport to offer a changing place for adults with severe mobility limitations. The 14 square foot (approximately 4 square metres) fully accessible changing place is equipped with an accessible toilet, a height adjustable bed with side rails and an overhead hoist to help passengers with restricted mobility. The special equipment allows the user easily to reach from the wheelchair to the bed or to the toilet. 
Crucially, the airport experience is only going to get better. "We have no intention of resting on our laurels," Michael Kerkloh said. "On the contrary, we plan, with the help of our customers, to keep working on the continual improvement of our services in the future."