Aussie aisle chair makes flying easier for wheelchair users
Written by Roberto Castiglioni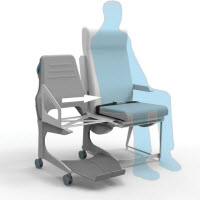 Australian designer Peter Short created an innovative aisle chair concept that eases the enplaning and deplaning of passengers with reduced mobility.
"I designed POSTA as part of my final year honours project when I attended university," Peter Short told Reduced Mobility Rights. 
Peter studied at Monash University in Caulfield, a suburb of Melbourne, Australia. His creation, the"POSTA" Seat Transfer Assist, assists the transfer of a passenger with reduced mobility from the aisle chair into their seat. Crucially, it eliminates any lifting or strenuous physical work typical of manual handling.
The new aisle chair concept uses a series of guide rails allowing the person to slide onto their seat with great ease. The guide rails act as a bridge to support the passenger while being transferred. 
But one technical requirement may explain why the concept is not yet in use. The use of this aisle chair requires the fitting of a specially designed seat on-board the aircraft.
The airline seat itself, features a modified seat base to allow the cushion to lock into place and secure the passenger into the seat.
The core feature of POSTA is the sideways transfer function. Without having to manually lift the person, the seat slides across and locks into the modified frame of the aisle seat. 
The smooth transition is achieved with the use of guide rails and special rollers underneath the seat cushion. The guide rail acts as a bridge once it is flipped down and secured into the modified seat base. It then supports the cushion and passenger as they slide across onto the seat.
Once across, the guide rail is detached from the device and inserted underneath the cushion for as long as the passenger is seated. The device can then be folded up and stowed away in an overhead locker. 
The POSTA aisle chair concept can also be used to transfer the person backwards into the seat, provided there is sufficient clearance in front of it.
Airlines' ears turn deaf whenever a new solution requires a partial refurbishment of a plane. It is no secret that profitability is directly related to the time the aircraft spends in the air. But the POSTA concept is designed to shorten enplaning and deplaning times, something low cost carriers love to hear.
Reduced Mobility Rights has been advocating the abolition of manual handling for many years. Manual lifting is undignified and dangerous for passengers and helpers alike. The POSTA concept brilliantly addresses the issue by easing the process for passengers while giving airlines an incentive in the form of shortening enplaning and deplaning times of wheelchair users.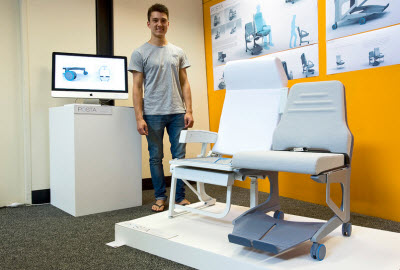 Low cost carriers are all about turnaround times. Peter Short's idea has all the numbers to be liked.