Guidelines to build the Airport for Everyone
Written by Roberto Castiglioni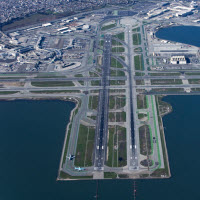 I think the omnipresent definition "passenger experience" is deprived of meaning if the airport infrastructure is not accessible.
The definition is widely used to showcase improvements or package new products. Some airlines go as far as defining the "personalization" of air fares as an improvement in the passenger experience.
I firmly believe understanding disability is key to improve access to air travel for everyone. The newly launched concept of the "Airport for Everyone" is the starting point of a truly improved passenger experience.
Building the airport for everyone begins with understanding the relevance of Universal design. U. D. is the natural evolution of Accessible Design, a design process that addresses the needs of people with disabilities. 
Universal Design goes further by recognizing that there is an endless variety of individual abilities. Everyone passes through childhood, temporary illness, injury and old age. By putting human diversity into context, Universal Design creates an environment easier for all people to use. 
Universal Design alone is not the magic recipe to build the most accessible airport of all times. Airports are complex infrastructures, connectors for people to migrate from land to air travel. Making infrastructure accessible in physical terms is just one part of the equation. 
When visiting airports, the first thing that catches my attention is architectural improvisation. More often than not, the initial design did not take certain needs into consideration, forcing last minute patches.
No matter how good the architect in charge, airport infrastructure is so complex that something always ends up being forgotten or misjudged. The cost of these errors translates in decreased usability.
I like to say perfection does not belong to this world. But this doesn't mean we should give up on it. Putting Reduced Mobility Rights unparalleled expertise at work, we analysed accessibility standards and applied them to core concepts of airport usability. 
The end result is a set of guidelines to build the "Airport for Everyone", a tool designed to help cross-check blue prints and make sure the airport design meets accessibility standards, embeds concepts like accessible path of travel, and creates an environment easier for all people to use.
Email consulting[at}reducedmobility.eu to learn more about the Airport for Everyone guidelines.