Manchester airport opens Changing Places suites for disabled people
Written by George Sensalis
Addressing the needs of severely disabled people, Manchester airport opened three Changing Places suites.
The Changing Places restroom goes beyond current regulations for accessible toilets.  The suite is a fully accessible toilet equipped with a height-adjustable changing bench, a mobile hoist, a peninsular toilet, a privacy screen, and enough space for up to two carers.
The brand new facilities are available in each departures hall of Manchester airport three terminals.  Terminal Two and Three Changing Places are now open, with Terminal One set to open in March.
Access to the facility is provided via the telephone next to each facility and is controlled by the Customer Contact Centre. To pre-notify the airport of a requirement to use the facilities, passengers or carers can contact the Manchester airport team on 0330 333 0304.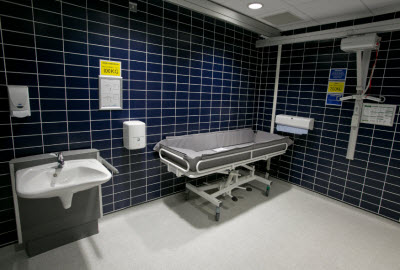 In the UK alone 230.000 people could benefit from a Changing Places facility. The accessible suite is designed to best serve the needs of people with cerebral palsy,  brain injury, Multiple Sclerosis, Spin Bifida, and Motor Neurone Disease.
In England, London Heathrow and London Gatwick airports also feature Changing Places facilities.
Do you need help when traveling? Would you be happy if your airport had a Changing Places facility available to you? Have your say on Reduced Mobility Rights Facebook page or tell us your story using the contact form.