More than 100 hospitals to benefit from Southwest Medical Transportation Grant Program
Written by George Sensalis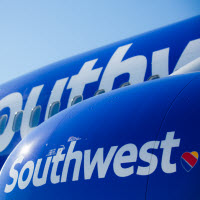 Southwest announced last week that over 100 non-profit hospitals and medical organizations from across the US will benefit from the Southwest Airlines 2015 Medical Transportation Grant Program.
Through the program, non-profit hospitals and medical programs taking part in the program give complimentary, round trip airline tickets to families who need to travel for specialized medical care. 
Access to world class medical attention is more attainable when the cost of travel is not a problem. In 2015, Southwest will give more than $3.2 million in free transportation to caregivers and patients seeking medical treatment, a 14 percent increase from the 2014 program. 
"We care about the communities we serve and are honored to partner with like-minded hospitals and medical transportation organizations," said Linda Rutherford, Southwest Airlines' Vice President of Communication and Outreach.  "We are proud to help fill the gap between where patients live and where the doctors they need practice so patients can receive the treatment that best supports them."
Since the Southwest Airlines Medical Transportation Grant Program's started eight years ago more than $16.4 million in free
transportation has been distributed to organizations in 26 states, making a positive impact on the lives of more than 41,000 individuals. 
Andy Furmann and his family are just one example of those affected by the program. In 2013, Andy was in a life-changing ski accident that left him partly paralyzed from a spinal cord injury. 
Andy traveled from his home in Massachusetts to Atlanta so he could receive treatment at Shepherd Center, a hospital, research facility, and rehabilitation center for people with spinal cord or brain injuries.  
Through the Southwest Airlines Medical Transportation Grant Program, Andy's father was able to balance work at home while visiting Andy in Atlanta. Andy said his father's presence during his treatment was just as important as his physical therapy and medical treatment. 
"As one can imagine, when you have a catastrophic injury, finances become tight," said Anna Elmers, M.D., a staff physiatrist at Shepherd Center in Atlanta. "Southwest Airlines' Medical Transportation Grant Program has been a wonderful way of allowing family members to see their loved ones who are undergoing rehabilitation at Shepherd Center. Having loved ones near provides the patient with important emotional support during their recovery."