Air travel seen through the eyes of a blind passenger
Written by George Sensalis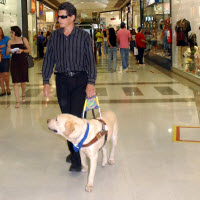 In her column on welfare Society Territory, Stefania Leone shares tips and tricks a solo blind traveller may find useful. We are republishing her article adding our notes to give a full travel perspective.
Starting this February, Reduced Mobility Rights expands its content by republishing articles that we think are of interest to our readers.
Stefania describes the blind traveller's journey from taxi to the airport, through to boarding the plane, and claiming your luggage at the other end.
Here are tips, tricks and ideas from Stefania to other blind travellers who are getting ready to fly alone.
1. The booking. Not all airline or airport websites are accessible or have a phone number for specific assistance in case of difficulty. The airline is obliged to inform airport staff when someone with a disability is departing or arriving. But this information doesn't always get communicated perfectly, to the great detriment of travellers with disabilities. 
That's why it's necessary – at least at departure – to have a text message or email to confirm that assistance has been booked through the airline and confirmed by the airport. This is a small detail but it would make our lives so much easier!
Note
All European airlines have dedicated website pages and phone lines to request assistance. However, sometime information is not passed on from the airline to the airport. To prevent miscommunication, a growing number of airlines are testing confirmation systems to ensure passengers hold a document or text message that proves they had booked assistance.
2. Hunting for the totem. Once you arrive at the airport, then the trouble begins. It's often very hard to find the columns with an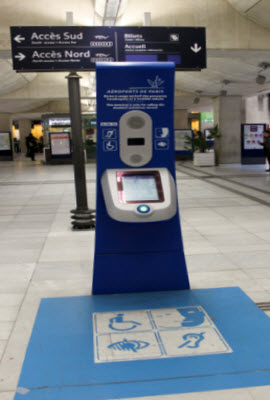 intercom (called a totem) where you can call to announce your arrival and get passenger assistance. For example, the totems at Rome Fiumicino aren't that obvious; they're painted plain grey and are marked with the nondescript word 'information'. If our taxi driver can't find them, he or she has to take us right into the departures area of the airport to the information desk. But all you need is a brighter colour and a better sign! But really, we should be given a precise meeting point and time, to be agreed before hand, as well as a contact number in case of emergency.
Note
European law mandates airports to set up clearly marked meeting points. These may be unmanned, like the "totems" Stefania mentions, or manned desks. A growing number of airports are posting emergency phone numbers on their websites. It is always a good idea to visit the airport website before leaving home.
3. The forgetful assistant. Finally, near the totem, our assistant offers us his or her arm… and be sure we won't be letting go! They help us to check in, through the metal detector at security and often they take us to a waiting room before the boarding gate. This is because assistance usually requires travellers with a disability to be at the airport at least two hours before departure time. The airport assistant has to be with us all the time, maybe leaving us with a colleague on occasion but, in any case, someone has to stay with the passenger until they board the plane.
However, it has happened that someone has been forgotten somewhere, in a waiting room, at a gate or in a bar. Here again, an emergency contact number would solve a lot of problems. And if the service staff, such as bar tenders or duty free shop assistants, were informed, it would be even better. Another useful thing to know about are the tactile paths, called LVE (Loges Vet Evolution), which guide people with visual or sensory impairments to the information desk, toilet, chemist, the restaurant or the emergency exit.
Note
European law mandates airports and airlines provide passengers with disabilities "assistance to meet their particular needs should be provided at the airport as well as on board aircraft, by employing the necessary staff and equipment." But the law does not make one to one assistance mandatory. Due to travel dynamics and number of passengers in need for assistance, it is not uncommon for passengers to be held at dedicated departure lounges (in Italy they are called Sala Amica) or escorted and left to wait for boarding at the gate. In the latter scenario, a sudden change of gate could cause for a passenger to be left behind.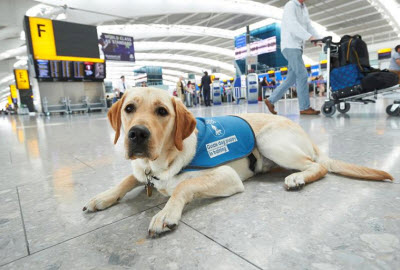 4. Your friends the cabin crew. Managing the fourth part of the journey, the flight itself, is in the hands of airline staff, who are required to give you full information on the exact position of your seat in relation to the emergency exits, the toilet, the call button, as well as how to use the seat belts and life jackets, and inform you about the food and drinks on board. If the flight isn't too long, and so long as there are no untoward events, this phase of the trip is relatively easy. But in any case, it's your right as a traveller with disabilities to ask for the right information.
Note
Airlines are required to give the safety briefing in a manner that can be clearly understood by the passenger. Some airlines use printed matter to help people with hearing loss and braille documents for the visually impaired. It is always best to let cabin crew know of any special requirement you may have at the time of boarding.
5. Watch your suitcase. Based on the information from the airline, ground staff will come to pick us up after the other passengers have disembarked. Fingers crossed they'll be on time, to avoid inconvenience for the crew as well as to the disabled person. Ground assistance staff are required to accompany you through passport control and baggage reclaim, until you meet a companion at arrivals or you find your chosen means of transport (car, taxi, train, bus).
A fundamental trick: make sure you know the exact colour and brand of your suitcase! Obviously there is a name on the label and we can recognise it by touch… but do you realise how many suitcases normally pass over the conveyor belt for a flight carrying more than 300 passengers? A special way of recognise your case wouldn't hurt… that much we can predict!
Passengers travelling with a guide dog may wish to review Reduced Mobility Rights acclaimed flying with guide dogs checklist