Disability Advocates bash Canberra Airport facilities for wheelchair users
Written by Roberto Castiglioni
Few weeks after the embarrassment of flight United 863 Canberra Airport is once again under the spotlight, this time for its poor facilities for wheelchair users.
"Canberra is missing out on huge tourism and corporate events in the disability sector because of its inability to have proper access at the airport and a workable wheelchair taxi scheme where the booking system works," People with Disabilities ACT CEO Robert Altamore said. 
"At Canberra Airport it is a bit provincial; it's touted as an international airport but the truth is when you get here you're likely to be on a smaller plane," Advocacy for Inclusion GM Christina Ryan said.
Canberra's Airport official position is that it is the airline's responsibility to provide for support and help for people with disabilities. 
Wheelchair users' access to the plane at remote stands is the primary cause for concern according to disability advocates. 
"I'm fearful if I fall off the side I could actually topple off the edge of the device," wheelchair user Lud Kerec said. 
Another concern is the length of time to get on and off an airplane in wet or cold weather. "Like a lot of quadriplegics cold affects me greatly, I start spasm," Mr Kerec said. "If I have a violent spasm while on the high-loader I could fall off it."
In its Access Plan, Australia's capital airport pledges to "continue to consult with local access advocacy groups to maintain continuous improvements and facilitation at the airport terminal for persons with disabilities."
Solutions like height adjustable boarding ramps and portable passenger bridges are common sight at a growing number of airports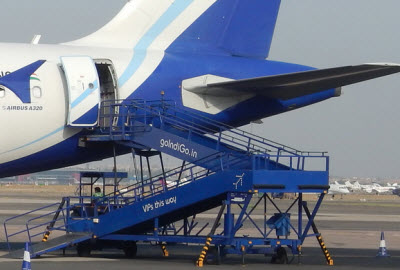 across the globe. 
Boarding ramps allow wheelchair users to remain in their wheelchair up to the plane's door like in a standard airbridge. 
These ramps also benefit parents travelling with children because they eliminate the risk of falling from steep aircraft stairs, and allow all other passengers a step-free boarding process. 
India's biggest budget airline by market share IndiGo is the only airline in the world regularly operating boarding ramps at most airports.
The solution to the problem disability advocates highlighted is within easy reach. Nothing should prevent Canberra Airport management to invest into boarding ramps to improve remote stand enplaning and deplaning process for all passengers.