Southwest recognized as one of America's most community-minded companies
Written by George Sensalis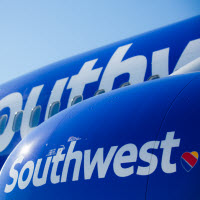 Recognized by The Civic 50 as one of America's most community-minded companies, Southwest boosts its legacy as the carrier that cares.
Data from the U.S. Department of Transportation shows Southwest Airlines is America's largest carrier by domestic passengers boarded. The Company operates the largest fleet of Boeing airplanes in the world.
In September 2014, the airline unveiled Heart, the new plane's livery, airport experience, and logo, showcasing the dedication of Southwest employees to connect customers with what's important in their lives.
The Civic 50, an annual initiative that identifies companies for their commitment to improve the quality of life in the communities where they do business recognized Southwest as one of America's most community-minded companies.
Created in 2012, The Civic 50 measures corporate civic engagement and recognize companies that incorporate socially-responsible
practices and community leadership into their culture. The survey ranks companies based on several criteria, including how extensively resources are applied to community engagement.
Southwest Airlines supports charitable organizations within the communities it serves, in particular those that fall within its areas of strategic focus: Families Facing Serious Illness, Military and Family Members, Volunteerism, Disaster Preparedness and Response, Placemaking, and the Environment. 
The low cost airline fosters community partnerships around Diversity Initiatives, Leadership Programs, and Civic Engagement. Developing strategy around these pillars helps decide the carrier's investment of time, money, and resources within those focus areas. 
In 2013, Southwest donated close to US $19 million in tickets and cash, supported almost 5,000 individual charities, and volunteered more than 144,000 hours.
"Southwest is committed to a triple bottom line of People, Performance, and Planet. Our hope is to encourage change within our Company that extends into our communities, and eventually out into our world," said Linda Rutherford, Southwest Airlines' Vice President Communications & Outreach. "We are honored to be recognized alongside companies who are committed to making a difference."