Passengers eat well at Denver International Airport
Written by George Sensalis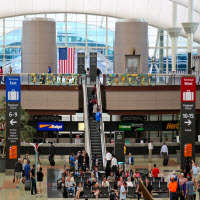 For the second year running Denver International Airport ranked seven in the list of US airport providing healthy food choices.
In the broad spirit of Universal Design, Reduced Mobility Rights is adding new criteria to its accessibility checklist. Availability of healthy food choices is the latest criterion added to our set of values aimed at defining the best passenger experience.
Denver airport already met our accessibility criteria. Colorado's main airport showcases several good calls like the wheelchair accessible pet relief area on Level 2 West in Jeppesen Terminal. 
Visual paging monitors near flight information display monitors and near baggage claim carousels boost the passenger experience for people with hearing loss. 
Large accessible family restrooms throughout Jeppesen Terminal and on each concourse are essential to passengers with special
needs and families traveling with young children.
According to a report of Washington D.C. non-profit organization Physicians Committee for Responsible Medicine, Denver ranked number seven in the 2014 list of US airports providing healthy food options.
Denver Airport is praised for featuring an array of healthful Colorado favorites. The report mentions examples like the Root Down restaurant where travelers can opt for steel-cut oats with coconut milk, veggie burger sliders, roasted beet salad, or a tofu bento box to go.
Denver airport is upgrading 75 percent of its shops, restaurants and other amenities over a three-year period. 
In 2013, DIA opened 21 new or updated concession locations as part of this transformation.  This year, the airport has opened 22 new or updated locations, among which many food outlets offering healthy food options.
"Denver International Airport continues to increase the variety of dining options for our customers, with an eye toward providing local flavors that include healthful selections," said Denver International Airport CEO Kim Day. "We are proud to be listed among the top-10 healthiest airport food options again this year, and we will actively continue to engage with our customers and work with our concession partners to improve upon our offerings even further." 
Do you think healthy food options add value to the airport experience? Have you recently visited Denver International Airport? Post your comments on Reduced Mobility Rights Facebook page or tell us your story using the contact form.