Man dies after Emirates tell him he is too fat to fly
Written by George Sensalis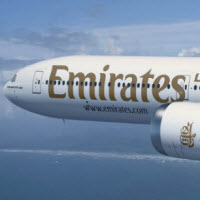 The family of an obese young man blames Emirates for his death after the airline denied him boarding a life-saving flight to India.
Obesity is very rare in Tanzania, and in most cases is the result of an underlying condition. Sande Jacob Mremi weight was 250 kg (550 lbs) at the time of his death. The family of the 25-year-old told Tanzania TV station ITV the young man had to fly to India to undergo a life-saving procedure. 
But the family struggled to find an airline willing to accept him for travel. The family said Emirates Airlines sold them a ticket for US $13.800 when the normal fare is US $1.000. Once at the airport, Emirates staff told Sande he could not get on the airplane because he was too fat. 
"We respect our customers' privacy and do not discuss specific customer details or cases," an Emirates spokesperson told Reduced
Mobility Rights. "Emirates places the highest standards on in-flight safety and as part of this it is a requirement that all passengers are able to be safely and comfortably seated with seatbelts fastened."
International rules on air carriage say airlines must make sure passengers are seated with their seat belts fastened during taxing, take-off, and landing.
After Emirates refusal the young man's family turned to Ethiopian Airlines who promised to make suitable arrangements but he died one day before his flight.
Sande Jacob Mremi is not the only obese person to die after being denied boarding. Last September, the husband of an American woman settled a wrongful death suit against Delta, KLM, and Lufthansa.
In his suit, Janos Soltesz accused the three airlines of having sent his wife Vilma "on a debilitating wild goose chase" from carrier to carrier that caused her to lose her life in October 2012. 
Thrown off a KLM plane, the woman could not board a Delta aircraft because there wasn't a suitable aisle chair. On October 22nd 2012 the captain of a Lufthansa flight ordered the couple off the plane as enplaning her was taking too long. Vilma Soltesz, whose weight was 407 lbs (185 kg), died on October 24th.
Air Samoa is the only airline in the world charging passengers fares by weight. But most airlines remind obese people they will have to buy an extra seat if they are too large to fit in a standard seat.