Why people in wheelchair dread connecting flights
Written by Roberto Castiglioni
The run across an airport to catch a connecting flight is a dreadful experience for most, a nightmare come true for someone in a wheelchair. 
To catch a connecting flight is as common as drinking water for the vast majority of people who travel by airplane. Most of us buy tickets with connections to save money. Often, indirect flights are cheaper than direct routes. 
If I were to fly from London Heathrow to Istanbul on 13 December returning on 20 December I would spend 211 GBP (USD 330, Euro 265) buying the ticket via Lufthansa, 315 GBP (USD 492, Euro395) via British Airways.
The price difference is reason good enough to choose Lufthansa over British Airways. But Lufthansa is an indirect flight, and the time between connecting flights is cause for concern. The layover between flights is 55 minutes. The outbound leg is via Munich, the inbound via Frankfurt. 
A late departure or a short holding time before landing can make you run like a madman through the airport. Things become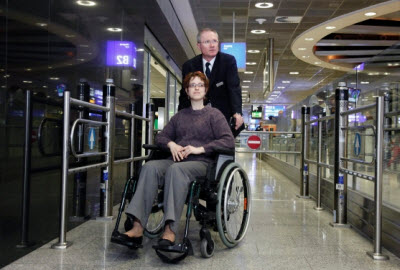 complicated when your legs are different. "My wheelchair is my legs," novelist Alexandra Singer explained.
Wheelchair user Christine Lester will not forget her travel experience with Lufthansa soon. On 26 October, she left Birmingham to Bucharest via Frankfurt. "Upon arriving at Bucharest, staff said my wheelchair and luggage were left behind at Frankfurt, and they would be delivered after one or two days," Christine said.
"Our investigation into the accident shows Mrs Lester and her husband landed in Frankfurt on October 26th with a delay of 12 minutes," Frankfurt airport management told Reduced Mobility Rights. "At Frankfurt Airport we recommend a minimum connecting time of 45 minutes for passengers and their luggage. In Mrs Lester's case the timeframe was too short to move the luggage and the wheelchair to the connecting flight."
European rule states airports must give a free replacement if a wheelchair is lost or damaged. But Lufthansa and Bucharest airport staff did not offer Christine one. "I travel throughout Europe on business and I am not impressed with the support Lufthansa gave me, certainly not the way to treat a disabled person," she said.
Missing the following flight is the other dreaded scenario. "We arrived at Amsterdam airport at around 15.25 on 03.01.14," Passenger Jonathan Fogerty said. "I was helped off the plane to be told I had missed my connecting flight to Manchester airport, and had been re-booked on the 20.30 flight."
"I think that Mr Fogerty's connection was not workable," an airport manager told Reduced Mobility Rights. "His inbound flight is always delayed due to customs checks at the gate."
Delays are on average between 30 to 45 minutes, the manager explained. "That would leave wheelchair helpers a short time to get the passenger and take him to the next gate located 10 minutes away." 
The manager said it is common for short connections
to be close calls. "The slightest delay would cause a person in a wheelchair to miss his or her connecting flight," he said.
Passengers who miss a connecting flight for any reason may also lose money. Airlines may legally charge penalties or fee applicable for changing to a different onward flight. But they are keen on waiving these fees or penalties in cases like the late arrival of the inbound flight.
A solution to the problem is available. Airlines can introduce filters in their booking systems that prevent the sale of connections shorter than 120 minutes to passengers travelling with a wheelchair. 
Whether carriers have the will to make flying a better experience for wheelchair users is an entire different ballpark. 
Do you travel with your personal wheelchair? Have you ever taken a flight with short connections? Post your comments on Reduced Mobility Rights Facebook page or tell us your story using the contact form