Montgomery airport showcase charity creativity
Written by Roberto Castiglioni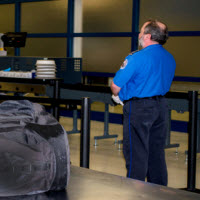 Who said TSA rules are bad for everyone? Helped by Montgomery airport, a charity found a creative way to get donations exploiting security restrictions.  
Every day thousands of bottles of shampoos, body lotions and perfumes end up in waste bins. The airport's most common nightmare begins seconds from going through TSA checks. That's when most of us remember having liquids or gels that will not pass screening due to security restrictions. 
Reality & Truth Ministries, a non-profit organisation of Montgomery, Alabama, said enough with the waste. The organisation helps the homeless and people in dire social and financial situations in downtown Montgomery. The charity supports an average of 120 people per day providing showers, laundry, clothing, furniture, groceries, and free meals.
Deborah Thomas, vice president of Reality and Truth Ministries, put her creativity at work. She created a special bin departing passengers can use to put their liquids and gels. 
"A lot of people travel," Deborah said. "They get those little shampoos, little soaps. You can put those in the bin and we do hygiene kits." 
Montgomery Regional Airport management approved Deborah's creative idea making the charity's bin a permanent fixture at the airport.
Deborah's creativity is bound to inspire charities across the world. Possibilities are endless. Even airports could think of collecting and auctioning these items on regular basis.