Aeroflot disability policy still work in progress
Written by George Sensalis
Recognised by National Geographic Traveller Awards 2014 as the best airline in Russia, Aeroflot shows room for improvement on their handling of disability.
Aeroflot is not new to prestigious awards. In In 2014 the airline received the best airline in Eastern Europe award by SKYTRAX. "Aeroflot today is a truly successful premium airline which deserved a worldwide recognition for the exceptional level of service and modern fleet," Aeroflot CEO Vitaly Saveliev said.
The award winning airline seems to be dropping the ball on disability. Reduced Mobility Rights, the World's number one website in access to air travel, has taken a look at Aeroflot disability policy.
Information the airline gives passengers with disabilities on its website falls short of meeting US and European rules. Information required by American and European law is missing while existing information fails to meet international standards.
The page opening may raise eyebrows. Aeroflot suggests passengers with disabilities ask their doctor about their fitness to fly before
purchasing a ticket.  
The airline requires disabled passengers to let their needs known at the booking stage. Aeroflot asks people who need an airport wheelchair to request the service at the booking stage or when buying a ticket. The service must be requested not later than 36 hours before departure.
"We provide free wheelchair assistance during every step of the flight starting from the check-in procedure," an Aeroflot spokesperson told Reduced Mobility Rights. "Passengers could require wheelchair assistance by calling our call-centre using toll free numbers." This information is not available on the airline's web page.
Manual and battery-powered wheelchairs are carried for free. Wheelchairs with electrolyte batteries are transported only if the battery can be removed and packed in a separate container made of absorbing material.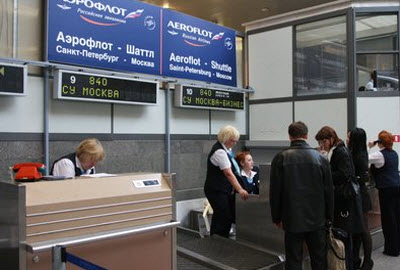 Service and guide dogs are carried for free. But the web page does not make mention of emotional support animals, or any paperwork or vaccination required for the carriage of animals.
Carriage of people with cognitive impairments is regulated by strict rules. Passengers must present a medical certificate with details of their condition. Acceptance for transport is at Aeroflot's discretion and is only confirmed immediately before departure. 
On departure, passengers with mental impairments must check-in via the airport medical unit, and be escorted by the airline medical officer or representative from check-in to the boarding gate. The same punitive restrictions apply to arriving passengers.
The web page does not give details of seating arrangements, seats features, availability of on-board wheelchairs and accessible lavatories or support passengers with special needs may expect on-board the airplane. Aeroflot says they are happy to help during the flight.
Information available to disabled people on Aeroflot's new low-cost carrier Pobeda (Victory in Russian) website also shows room for
improvement.
Information on the Pobeda website is scattered around different sections. Browsing the site we discovered that the airlines reserves the right to deny carriage if request for assistance is not made at the booking stage. People with disabilities are barred from checking in online. 
Deaf/blind passengers and disabled children under the age of fourteen cannot travel unaccompanied. There is no mention of restrictions for passengers with cognitive impairments.
Guide or service dog in the cabin must have a collar and muzzle and be tied to a chair at the feet of the passenger. Strollers, wheelchairs, battery-powered wheelchairs, and walking frames are carried for free.
"I hope Aeroflot understands and embraces EU and US rules as they will help them improve the quality of information for disabled people and their image," Reduced Mobility Rights director Roberto Castiglioni said. "We are always happy to share our unparalleled knowledge and experience with airlines and help them get their disability facts right to deliver customer service excellence and meet domestic and international legal obligations."