Avianca ask disabled people wear diapers in-flight
Written by Roberto Castiglioni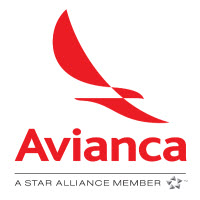 Colombia's national airline Avianca set a new low in discrimination against the disabled by asking people who cannot make their way the toilet to wear a diaper in-flight. 
Initiatives like the Accessible Tourism Universal Network, part of the program called "Bogotá, Accessible Tourism Destination" put the South American country on the map of developing accessible tourism.
Reduced Mobility Rights assessed Colombia's flag carrier Avianca's services for people with disabilities. During our inspection we found the incredible "diaper rule" in the section dedicated to help passengers with a disability receive on-board the plane.
The Avianca "experience" begins at the time of booking. The airline recommends disabled passengers to inform of their needs at the time of booking, or at least 24 hours before the flight. 
The carrier requires passengers with special needs to call its customer support centre via a toll free number. By comparison, most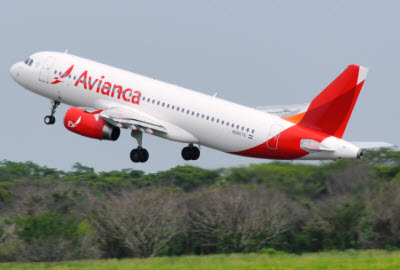 airlines allow passengers to book support online during the booking stage or via email.
Only people with hearing loss who live in Brazil and the United States of America can book assistance via a TDD phone system. The deaf who live elsewhere must rely on someone's good heart to tell the airline of their needs.
Carriage of up to two personal mobility devices like wheelchairs or walkers is free. Passengers travelling with a battery powered wheelchair must give the airline the manufacturer's assembly instructions or any other storage requirement. The airline requires advanced notice for wheelchairs powered by wet-cell batteries.
People travelling with respiratory equipment should arrive at the airport at least one hour before the scheduled opening time for check-in.
Avianca accepts guide dogs and emotional support animals in line with domestic and international rules. Carriage of service animals is free.
It is recommended to make yourself known to airline's staff upon arriving at the airport. Priority check-in and priority boarding, standard on most airlines, are only available on request. 
Passengers unable to comprehend or respond appropriately to safety instructions and those unable to evacuate the airplane without assistance are asked to travel with a safety assistant. Passengers checking in without a safety assistant may be denied boarding if the airline determines an assistant is needed for their safety during the flight.
Assistance on-board the airplane is basic. Upon request, blind passengers are given a pre-flight safety briefing card in Braille. Cabin crew does not help with eating, drinking, taking medication, or moving to the toilet. 
The airline's website does not mention if aisle chairs are available on-board. But, passengers who cannot use the toilet without help are asked to carry necessary items to take care of their physiological needs. In simpler words, they are asked to wear a diaper while in flight.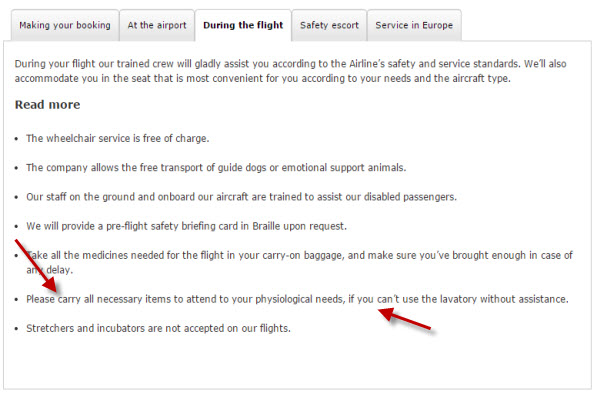 The overall impression is that Avianca give passengers with a disability basic help and extra support may come down to the good heart and compassion of cabin crew. Adherence to minimum standards set by International rules is insufficient in today's world and a step backward in the path to inclusion.
Being told to wear an adult diaper if you can't make your own way to the lavatory is distasteful. We prefer an airline stating they do not wish to carry disabled people rather than one making people with special needs as uncomfortable as possible by imposing undignified rules.
Avianca appears to have gaps to fill to meet industry standards for carriage of people with a disability. Hope never dies; maybe the diaper rule is a soon-to-be-corrected hiccup in the airline's bid to give access to air travel for all.