Sydney boosts Airport Ambassador service
Written by George Sensalis
Since 1999 Airport Ambassadors have been the smiling face of New South Wales. This year Sydney airport is boosting this signature service.
The idea behind the Airport Ambassador project is simple and effective: bringing a sincere and caring attitude to Australia's busiest airport to give everyone a positive experience.
Airport Ambassadors now have a fresh new look with blue uniforms and iPads to better assist passengers with real-time information.
"Our ambassadors are the smiling face of the airport and have provided help, assistance and directions to millions of passengers since 1999," Sydney Airport chief executive officer Kerrie Mather said. "A key focus for the airport is growing tourism for Sydney, NSW and Australia and the assistance that our ambassadors provide to visitors, from helping them fill in departures cards to providing directions for taxis or the train, is an important part of this."
Although not tasked with meet and greet services or special assistance Airport Ambassadors have a crucial role in providing guidance
to older passengers and disabled passengers who wish to stay independent.
"The ambassador's iPads are loaded with real-time flight arrival and departures through the Sydney Airport app and language translation apps, which will provide all the information they need to assist passengers at their fingertips," Miss Mather said.
Real time access to the right information is crucial in a busy airport like Sydney. Not everybody has the time to visit the airport's website. Sometime information is not available at the airport. That's when finding an Airport Ambassador makes a world of difference.
First time travellers may not be aware Sydney opened dedicated special assistance lanes at International and Domestic Terminals to make security screening easier for people with special needs. Security Officers are trained to assist and help make security screening process smoother.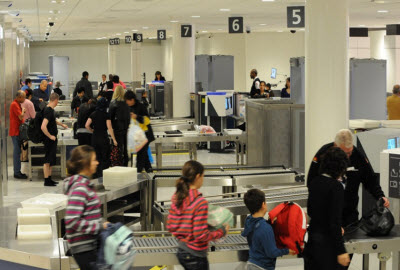 Airport Ambassadors can provide disabled passengers a wealth of information like where to find wheelchairs, how to prepare for security screenings and even what to expect from the pat down process.
Ambassadors can be found throughout the Terminals, including at information desks. The Sydney Airport's Ambassador program consists of 130 volunteers working across both Terminals. 
In 2012 the service expanded to include seasonal Mandarin-speaking Red Ambassadors to cater for growing number of Chinese tourists visiting Sydney. This year 50 Red Ambassadors will join their Blue uniformed colleagues over the Christmas and Lunar New Year period.
Ambassadors can be found between 6 AM and 9 PM daily at these hot spots: T2 Arrivals level opposite baggage carousel 2. T1 Arrivals level opposite passenger exit A and B.
T1 International Departures between check-in counters G and H, opposite Check in counter D, and opposite SYD Duty Free after customs and security screening.