Vienna Airport improves accessibility
Written by George Sensalis
Recent improvements make Vienna airport's infrastructure and services easier to access for passengers with disabilities.
Vienna airport has come a long way. Not so long ago Austria's main hub was home to discriminatory behaviours. Austrian law requires employers to hire a person with disability for every 25 employees. Not meeting the quota translates into a hefty fine.
The airport paid the fine instead of meeting its social obligations. The airport paid fines of 121,263.96 156,900 Euro for 2002 and 2003. In 2004, the airport employed 33 people with disabilities, less than one per cent of the entire workforce. Data of current employment levels of disabled people could not be found.
Vienna airport remains a male-dominated work place. The share of female employees at the airport is 12.5 per cent. Management stated disparity is due to 70 per cent of all jobs involving heavy physical labour. In comparison, the share of female employees working at Munich airport is 33.5 per cent of the total workforce.
Information the airport gives passengers with special needs and accessibility of the infrastructure are testimony of positive change.
Knowing what help one may expect to receive is important for people who must rely on support to make their way through a complex infrastructure like an airport.
The airport's quality standards are an example of best practice more airports should follow. The core feature of the document is the clear definition of IATA categories of assistance and the support passenger should expect to receive.
For example, a passenger categorised as WCHR is a passenger with mild mobility impairment. The person falling in this category is accompanied through the airport and given a wheelchair or buggy if the journey involves long walks.
A person with cognitive impairment, dementia, or Down's syndrome travelling alone is categorised DPNA. The individual is escorted throughout his journey with the help of a mobility device.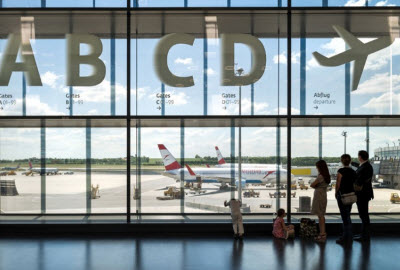 Vienna airport introduced several accessibility improvements after consultation with disability groups. 
Non accessible vertical circulation is one of the most common problem people with reduced mobility face. The passage between Terminal 2 and Terminal 3 are now barrier-free thanks to a 43 metre long and 2.6 metre wide ramp. 
Universal design concepts made way-finding more accessible. New sign colours and larger font size are now in use. Redesigned pictograms and an intuitive colour coding system help identify the different areas within Terminals.
More changes are on the way. Induction loops for people with hearing loss are being installed at passport control areas. Accessible toilets are being refurbished to meet the needs of wider groups of users. 
Further future improvements will see deployment of flight information displays featuring sign language and increased availability of tactile guidance system for the blind.