Japan in bid to improve accessibility ahead of 2020 Olympic Games
Written by George Sensalis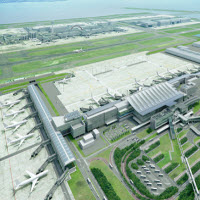 In preparation for the 2020 Tokyo Olympic and Paralympic Games Japan plans significant improvements to boost accessibility at airports and train stations.
The Japanese government plan is targeting train stations, bus terminals and airports in a bid to further improve access to infrastructure for people with disabilities. An advisory body to the Transport minister prepared a list of needed improvements. The list comprises architectural upgrades for wheelchair users, wider use of Braille signs for the blind and accessible toilets, 
The government plan calls for 3,500 of Japan's 9,500 train stations to be refurbished with accessible facilities by 2020. Now, only 83 percent of 3,500 stations are barrier-free. The plan also aims to make 100 percent of all public toilets accessible.
"[Japan is] one of the most important air transport markets in the world," IATA director general and CEO Tony Tyler said. His remark follows the recently unveiled government plans to increase the total annual number of flights at Haneda and Narita airports by 80,000 from the current 747,000. 
Mr Tyler said Japan's infrastructure itself is struggling to keep pace with demand. "The fourth runway at Haneda and its opening to
international traffic with an expanded terminal was no less than a Big Bang for Japanese aviation," he said. "But it will likely not be long before Haneda reach capacity again".
Japan's busiest airport in passenger traffic, Haneda airport embeds the true spirit of Universal Design. UD is the natural evolution of Accessible Design, a design process that addresses the needs of people with disabilities. 
Universal Design goes further by recognizing an endless variety of individual abilities. Putting human diversity into context, Universal Design creates an environment easier for all people to use.
The scope of applicability of Universal Design is endless. For example, curb cuts at sidewalks, at first designed to help people in wheelchairs, are now also used by people with strollers or rolling luggage. Curb cuts have added functionality to sidewalks that a much wider audience than its original recipient can benefit from.
Haneda airport provides many examples of Universal Design. Vending machines, pay phones, water fountains, and PC corners are positioned at different heights to give ease of access to wheelchair users and children.
Tactile pathways begin from the bus and taxi stands on the first floor and lead to the Information desk inside the terminal. Toilet cubicles in the restrooms are wider space than normal to allow access to manual wheelchair users and passengers traveling with hand luggage.
The airport offers a special restroom for emotional support and guide dogs. The animal respite area is located next to the Information booth on the first floor inside the terminal.
Haneda's attention to details goes beyond Universal Design. Specially trained staff is on hand to help disabled and elderly passengers so that everyone can use the airport in safety and comfort.
Staff must get the Care-Fitter qualification before entering service. Care-Fitter training focuses on cultivating assistance skills and spirit of hospitality. Training courses are certified by The Nippon Care-Fit Education Institute.
Already delivering accessibility most countries dream of, Japan appears determined to showcase a truly inclusive environment for the 2020 Olympic and Paralympic Games.