Barrier free access at Hamad International Airport
Written by Roberto Castiglioni
The Gulf's latest jewel, Hamad International Airport in Doha, Qatar, promises barrier-free access to people with disabilities. 
For passengers who travelled through the old Doha airport, arriving at Hamad International is more than a pleasant surprise, it's a jump in a completely new world.
The new Passenger Terminal spans over more than 600,000 square metres and offers a seamless experience from check-in to transfers and boarding. 
The entire Terminal complex features arched columns, generous skylights and highlighted finishes that create a light and bright atmosphere pleasant to the eye and good for the environment. To save energy the Passenger Terminal curtain walls are coated to cut solar exposure and the roof overhang provides cooling shade. 
Boasting 40,000 square metres of high-end retail and Food and Beverage outlets, HIA takes the airport shopping and dining
experience to a whole new level.
HIA also offers a wellness facility with swimming pool, a gym and two squash courts, and a spa. The luxury Airport Hotel offers 100 rooms in South concourse and 100 rooms in the North concourse. A glass structured public mosque will serve Muslim passenger's spiritual needs.
All transfers take place under one roof for a no-hassle experience and greater peace of mind. Speedy access between gates via travelator, buggies and the Automated People Mover guarantee that passengers will no longer have to run to make their connection.
Hamad International Airport offers barrier-free access and dedicated facilities that make travelling more comfortable for passengers with special needs.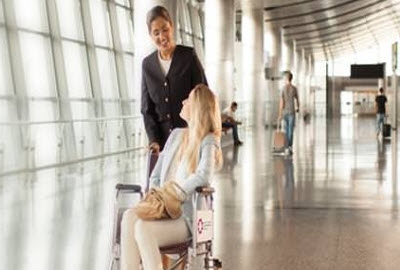 A network of elevators, escalators, ramps, travelators and Automated People Mover offers ease of access to passengers with reduced mobility. HIA installed elevators at the boarding gates for A380 plane making it easier to board the upper deck.
The seamless journey begins in the airport's car parks. Both short-term and long-term car parks offer dedicated parking spaces for passengers with reduced mobility. 
Complimentary wheelchairs are available throughout the Passenger Terminal. Passengers requiring help to move around in a wheelchair should inform the airline before travelling so that a personal helper can be arranged.
Each check-in facility includes an adapted service desk designed to ease checking-in for passengers with limited mobility. The dedicated service desk is the first counter in each check-in row, except for Qatar Airways' check-in rows where it's the last desk.
Accessible washrooms are available at various locations across the Passenger Terminal and are clearly marked.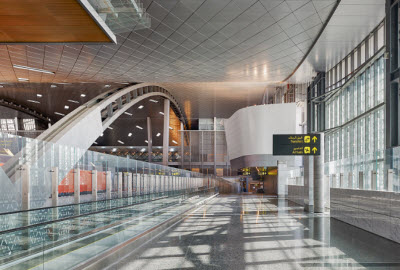 Passengers departing or in transit can enjoy the services of a dedicated waiting area. The lounge offers comfortable seating, televisions and a trained attendant. Accessible washrooms are located nearby.
Passengers travelling with a service animal are welcome to use the complimentary service room which provides various facilities to help look after the animal's needs.
Supported by state-of-the art technology that guarantees short waiting time, seamless checking in, and speedy immigration, HIA seems to be ready to meet its ambitions. 
It's no secret Hamad International aims to become the best airport in the world delivering excellent customer service in a barrier-free environment.