Miami International Airport ideal gateway to accessible holidays
Written by Roberto Castiglioni
Sun kissed South Florida is a leading holiday destination for people from across the world making MIA the ideal gateway to accessible holidays.
Miami International Airport's numbers say it all. In 2013, MIA ranked 10th busiest among US airports for total passenger traffic, and 2nd busiest in the US for international passenger traffic.
From October to April South Florida is one of the top destinations for people from across the world, specially families with young children and the over 60s.
To meet growing demand, European airlines are increasing capacity on their routes to Miami. From October 2015 British Airways will fly its two daily services on the London-Miami routes with the mighty Airbus 380. The A380, fitted with 469 seats, will replace the 337 seats Boeing 747 Jumbo Jets that BA now uses.
Between December 1st and March 28 French flag carrier Air France will run its daily service from Paris to Miami with the A380. German carrier Lufthansa already uses the largest plane on earth on its daily service from Frankfurt.
Over 60s may be young in spirit, but share the same physical and sensory problems most elderly do. MIA management addressed accessibility needs to give arriving and departing visitors a passenger experience as pleasant as possible.
The accessible journey begins getting to and from Miami International Airport. Passengers can find designated disabled parking,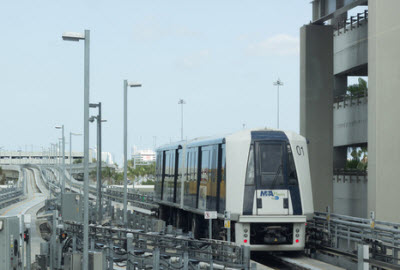 including van accessible spaces, and dedicated stroller parking conveniently located near the moving sidewalks on the 3rd level of the garages and on ground level of the Dolphin and Flamingo garages.
Walkways, named Skyride, are located on the third level and connect the main Terminal with parking garages and MIA Mover train station to the Rental Car Centre (RCC). These walkways span the length of the Terminal building, allowing passengers to move from concourse to concourse.
Arriving passengers in need of accessible taxi service should ask for it upon arrival at the ground level curbside area. American Shuttle shared-ride vans are available with wheelchair lifts. Passengers seeking to reserve a wheelchair lift-equipped van may contact American Shuttle at 305-871-1000, or see the curbside representative at the Ground Transportation kiosk.
For both accessible taxis and shared-ride vans, passengers should consider it may take time to call an equipped vehicle from the holding area, located just outside the airport. Drivers will help patrons with baggage.
The seamless journey continues inside MIA's Terminal, where every snack bar and full-service restaurant is wheelchair accessible. Wheelchair service at Miami airport should be booked through airlines. To guarantee availability and prompt service, the airport strongly recommended that service be reserved before travelling.  Wheelchairs may also be requested at airline ticket counters.
Restrooms located throughout the Terminal feature toilet compartments for travellers with disabilities.  Unisex restrooms equipped for the disabled are available throughout the Terminal.  Accessible restrooms are identified with the internationally recognised disabled symbol.
TTY / TDD telephones to help people with hearing loss are available at selected telephone banks throughout the Terminal. At telephone banks without TTY / TDD you will find directions to the closest accessible location. MIA offers visual paging for passengers with hearing loss. Visual paging messages can be viewed on the monitors displayed behind the ticket counters throughout the airport Terminal.  To ask for this service, please call 305-876-7000.
MIA has four animal relief areas located at the arrival level at Concourses D, E and J.  The relief areas at Concourses E and J are named "doggy parks." The airport's relief areas are equipped with dual surfaces and waste disposal stations.
The Transportation Security Administration recommends departing passengers with disabilities and medical conditions contact the TSA
CARES HELPLINE toll free at 1-855-787-2227 or visit the TSA website at least 72 hours ahead of travel for information about what to expect during screening.
People wishing to go with an elderly or disabled person to or from a boarding gate must get a non-passenger escort pass from the airline. 
The airport's security measures restrict public access beyond passenger screening points to ticketed passengers only. Airlines only may give permission for people with special needs to be accompanied by a health care assistant or guardian.
Miami International Airport and related aviation industries contribute 278,081 jobs directly and indirectly to the local economy. That equals to a staggering one out of four local jobs, reason good enough to keep the airport's management on the lookout for new ways to improve the passenger experience.
Since last June, Miami International Airport automated passport control (APC) kiosks are now available to visitors from the 38 countries participating in the U.S. Department of State's Visa Waiver Program (VWP).
APC technology allows travellers arriving from abroad to have their passports processed in less than two minutes via a self-service kiosk instead of waiting in line for a U.S. Customs and Border Protection officer.  Miami is one of the first U.S. airports to make APC kiosks available to visitors from Visa Waiver Program countries.
Miami International Airport's South Terminal recently introduced a virtual assistant named Leticia. Leticia is powered by high-definition projection imaging and surround sound to help passengers find their favourite airport meal or last-minute gift item in either English or Spanish.
MIA is the latest in a growing number of airports employing virtual assistants, with Leticia being one of the first to target shopping and dining customers.
"We are proud to partner with our concessionaires to introduce a new, innovative way to engage with our customers and provide them with an enhanced travel experience," said Miami-Dade Aviation Department Director Emilio T. González. "Our new virtual assistant is helping passengers make the most of their time at MIA in a fun, interactive and entertaining way. This is the first of many technology-driven services we will be launching at MIA before the winter travel season begins."
The mix of accessible infrastructure and state-of-the-art assistive technology Miami International Airport features meets and exceeds the needs of passengers with disabilities travelling through South Florida's gateway to accessible holidays.