Singapore Airlines raise $2.5 million to help charities
Written by Roberto Castiglioni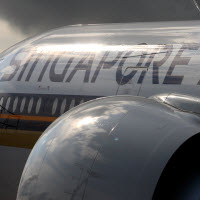 One of the world's leading airlines, Singapore Airlines is also a major supporter of charitable causes in Singapore and across the world.
This autumn, SIA raised $2.5 million in support of Community Chest. The Singapore Government will match SIA's donation dollar-for-dollar, bringing total funds raised to $5 million.
"The SIA Group is pleased to be giving back to the community by helping to raise funds for the less advantaged," Singapore Airlines CEO, Mr Goh Choon Phong, said "We are most grateful for the support provided by members of the public as well as from our loyal customers and the wider aviation community."
Singapore's Community Chest is supporting 226 social service programmes to help over 300,000 beneficiaries. These programmes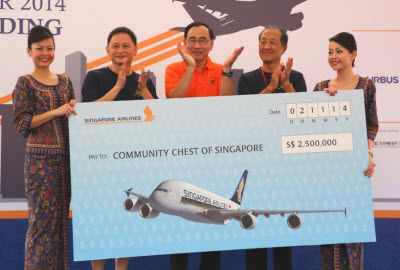 will help give critical and essential services to help children with special needs to reach potential as well as adults with disabilities to integrate into society. The programs also help relationships of families in difficulty to stay strong, and elderly to age graciously in the community.
The initiative in support of Community Chest is one of the many Singapore Airlines organise to help charities at the four corners of the planet.
Make-A-Wish Foundation Singapore, an affiliate of Make-A-Wish Foundation International, is one of SIA's adopted charities. The foundation grants wishes to children, aged between 3 and 18 years, with life-threatening illnesses. Singapore Airlines supported the charity by providing air tickets to bring the children and their parents to Disneyland Hong Kong.
SIA support Médecins Sans Frontières, also known as Doctors Without Borders. MSF is a leading international humanitarian organisation that delivers emergency aid to people in more than 70 countries affected by armed conflict, epidemics, natural disasters and exclusion from healthcare. 
In Korea, Singapore Airlines and Jongro Community Centre for the Disabled brought 20 disadvantaged children on a tour of Incheon International Airport in September 2013. The children rode the airport train and experience airport procedures such as check-in and currency exchange while their parents enjoyed a complimentary lunch and a musical performance. Thirty-two SIA staff, including SIA's General Manager Korea, took part in this memorable and meaningful event.
In Australia, SIA has adopted The Smith Family and Lille Fro as the airline's two official charities in Australia. The Smith Family is Australia's largest national children's charity supporting education for disadvantaged children. Lille Fro charity teaches children of impoverished families living in remote geographical locations.
In the Philippines, SIA donated two million pesos and 800 blankets to the Philippine Red Cross (PRC) relief efforts in the aftermath of Typhoon Haiyan. SIA Philippines and SilkAir Philippines helped raise an additional two million pesos to aid building efforts for the many left homeless by the disaster.
In the UK, SIA supports a community project named Chiswick Pensioners Alone At Christmas. This 29-year-old initiative features an annual Christmas party for about 60 senior citizens that aims to ease their feelings of loneliness during the festive period. SIA contributes to the local community of senior citizens by matching the donations raised by the community.