Jetstar disability discrimination case exposes Australia ugly side
Written by Roberto Castiglioni
A case of disability discrimination involving a 26-year-old woman with cerebral palsy left unattended by a Jetstar crew exposes a much bigger issue.
Australia 9 News first reported the incident involving Danae Florias and her sister with cerebral palsy. The siblings were returning to Perth from a short holiday in Melbourne.
Upon landing, the two siblings disembarked the Jetstar plane certain to find Danae's sister wheelchair at the bottom of the stairs. Instead, Danae had to carry her sister on her back into the Terminal building where she had to retrieve and reassemble her wheelchair.
"My sister cried, thinking they'd lost her wheelchair. She gets very anxious and upset easy so I couldn't calm her down," Danae told 9 News. "I feel so disgusted and disappointed." Danae said she received a reply to her complaint to Jetstar after 9 News contacted the airline.
"These reports are concerning and do not reflect the normal flight experience of our disabled passengers, many of whom fly with Jetstar often", a spokesperson for the low cost airline said. "We apologise to the family for the distress involved and we're investigating how this occurred." But, Jetstar conditions of carriage for passengers with reduced mobility do not guarantee a passenger like Danae would receive any extra help.
In its conditions of carriage, the airline states passengers and their carers must be able to board and disembark including assisting with transfers to and from mobility devices and seating where necessary, and assembling and disassembling wheelchairs. 
These conditions of carriage are illegal on flights from and to the United States; Airlines operating flights to the US, including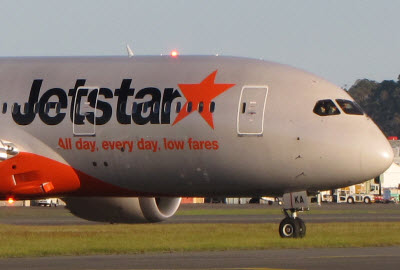 Jetstar's flights to Honolulu, must follow the Air Carrier Access Act. However, Jetstar's discriminatory conditions of carriage meet Australia's rules and regulations.
Last June, Australian musician and MS sufferer Jim Conway was unable to board a Jetstar flight since the airline could not provide for his safe transfer from the wheelchair to his seat. Jetstar staff told him he could not expect the same level of assistance legacy carriers provide from a budget airline.
Last July, Australia's former disability discrimination commissioner Graeme Innes denounced airlines discriminatory practices. Innes said some Australian airlines still practise "wheelchair apartheid, with the two-wheelchair policy". Qantas owned Jetstar accepts bookings for up to two people on wheelchair per flight. 
In 2012, Jetstar won the appeal on a discrimination lawsuit brought by Mrs Sheila King against the budget airline. Wheelchair user Sheila King was denied boarding because she was the third disabled traveller travelling with her own wheelchair showing up at check in for that flight. Mrs King had to pay Jetstar's legal costs, capped at AUD 20,000 (GBP 13,500/ USD 20,700).
"Graeme Innes in his role as disability commissioner refused to help Sheila King in that case and infact issued an opinion that her treatment was not discriminatory, I have a copy of that letter," Australian access to air travel advocate Bill Forrester told Reduced Mobility Rights. "Graeme was a member of the Government review committee that recommended that the policy affecting Mrs King was not to be changed. He supported the two wheelchair policy and is part of the reason it still exists."
Jetstar's latest case of discrimination against people with disability highlights a much bigger problem. Airlines, like any other business, keep to laws and regulations. When operating flights from and to the United States, Jetstar follows the Air Carrier Access Act. Had Danae and her sister been on a flight from Honolulu their journey would have been seamless. Sadly, the two sisters were on a flight operating under Australian law. 
Nothing prevents Jetstar to go above and beyond the law, or at least show basic human decency. But Australian law simply mandates airlines and airports should give "detailed information on their approach to meeting the needs of travellers with disabilities." 
Jetstar may have moral issues to answer but their actions meet existing national law, a rule failing to assure dignified access to air travel to the most vulnerable in society.