Heathrow Terminal 2 Special Assistance Facilities Review
Written by Roberto Castiglioni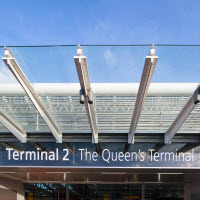 Our recent visit of facilities available to passengers with disabilities at London Heathrow Terminal 2 left us with mixed feelings.
Home to Star Alliance airlines, The Queen's Terminal is a clever mix of minimalistic layouts enhancing its otherwise glowing commercial venues and concessions.
Officially opened to the public last June, Heathrow's latest terminal is yet another example of how airports are changing by embracing concepts of the hospitality industry.  Airports are no longer places where people merely go to catch a flight; new layouts are designed to make people want to spend time in departures halls offering first class shopping opportunities and mouth-watering food options.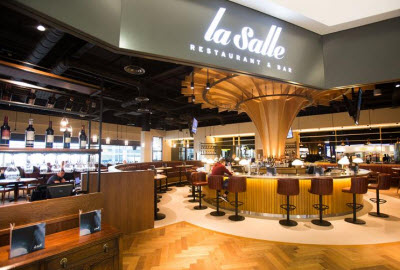 Current trends are fairly simple: make passengers clear check-in and security as soon as possible so that they can spend more time in beaming departure halls.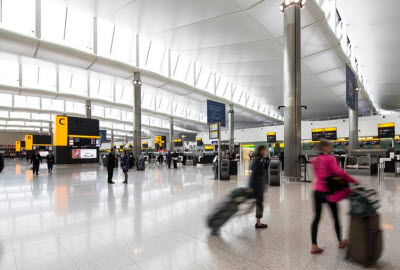 Terminal 2 perfect interpretation of this new approach to air travel enhances the stark contrast with the frugality of venues available to passengers with disabilities. 
The landside PRM waiting lounge is located between Zone D and C of the Check-in area. Its layout reminds more of a corridor than a lounge. Fairly unwelcoming, the facility should be used for a short time before being whisked airside. However, during our visit we noticed passengers with special needs spend a lot more time than they should in the ascetic venue.
The lounge is not marked on the map of Terminal 2. Perhaps this might be an indication this waiting area was not part of an integrated PRM plan, but rather a last minute patch to avoid falling short of meeting the needs of departing passengers with disabilities.
Moving past security, the Special Assistance lounge in the departures hall is located in a quiet area facing the runway, near the walkway connecting Terminal 2 to its satellite, Terminal 2 B.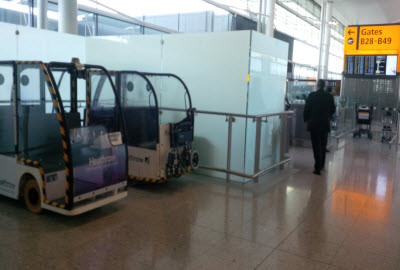 Its location may be problematic for passengers with photo-sensitivity or epilepsy. Prolonged exposure to direct sunlight may also be cause for discomfort to some, particularly during hot summers. On the plus side, the waiting area is in close proximity to accessible toilets.
Just like the PRM waiting area landside, the Special Assistance lounge airside is not marked on the map of Terminal 2. We wonder if the location of PRM facilities was left as a last minute decision, or these "blunders" are the by-product of a cultural approach still struggling to embrace inclusion.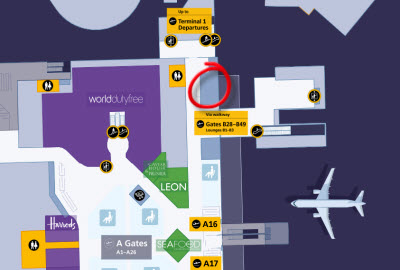 Updated 17 October 2014
On Thursday, OmniServ management told Reduced Mobility Rights that all T2 maps show the location of Special Assistance services. However, because of a known technical glitch, these become visible only when users expand the scale of the map. None of the four persons who originally tested the map on our behalf was able to spot the glitch. It remains unknown if and when this technical problem will be fixed.
All gates are equipped with reserved seating for passengers with special needs. Seats are located as close as possible to the entrance to the airbridge. 
Because of its length, the walk between Terminal 2 A and 2B can be challenging for the elderly or those passengers with reduced mobility that choose to travel without assistance. 
A Changing Places facility is conveniently located in the arrivals area before immigration. The clearly marked facility boasts state-of-the-art solutions and is designed to provide a dignified experience to passengers with greater need for assistance.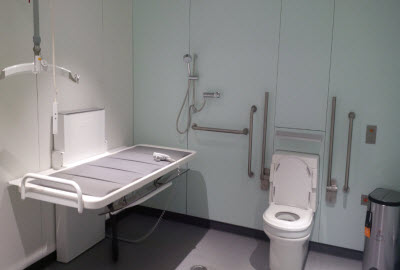 It would be helpful to provide a row of seats in the adjacent corridor to provide respite to family members of persons making use of the Changing Places area.
The PRM transit lounge is the fifth essence of frugality. On the plus side, it is located few feet away from accessible toilets. However, passengers waiting there have no access to food or drinks. The only amenity available to passengers using this area is a water fountain at the entrance of the accessible toilet. 
Reduced Mobility Rights understands the decision not to place vending machines in the proximity of the PRM transit lounge is based on commercial criteria rather than the well-being of disabled passengers in transit. 
Overall, nothing seems to indicate passengers with special needs are not being efficiently assisted. That said, the stark contrast between the glowing Terminal 2 mainstream areas and the location and minimalistic layout of facilities for disabled passengers may exacerbate the travel experience of the latter. 
When visiting a new airport we always hope to come across what Dr Scott Rains brilliantly defines as "a continuous path of enjoyment", a balanced blend of all that we now know about accessibility and inclusion. In this respect, our visit of the London Heathrow Queen's Terminal unearthed a missed opportunity to deliver an inclusive "path of enjoyment" to passengers with different abilities.