Virgin Atlantic Work With Association To Make Flying With Dementia Easier
Written by George Sensalis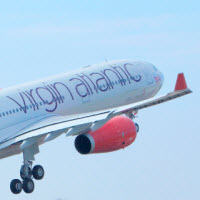 Virgin Atlantic is the first UK long haul airline to work with dementia awareness group Purple Angel to improve the flight experience of dementia sufferers.
The ability of a person with a mental impairment to cope should not be overestimated. With specific impairments which lead to confusion or disorientation.
The travel experience of a passenger with dementia can plunge into chaos at its early stages, as soon as the person reaches the airport terminal building. A new, largely unknown location or a crowded departure hall can be sufficient to cause disorientation. 
 The U.S. Alzheimer's Association said that it is common for a person with dementia to wander and become lost. According to the association, more than 60% of individuals with Alzheimer's will wander at some stage.
Airports and airlines do not provide custodial care or stay with the passenger on the aircraft or in the gate area prior to departure or during a layover. Gate changes, flight delays, and diversions are some of the situations that can lead to confusion or disorientation.
Purple Angel founder Norman McNamara announced the news that Virgin Atlantic have accepted an invitation to learn more about dementia from the Purple Angel Association. 
"Normally people would not put the words dementia and flying on a plane in the same sentence, but you would be surprised how many people with dementia still fly to go on holiday," He said. 
Geraldine Lundy, Passenger Accessibility Manager at Virgin Atlantic commented, "Virgin Atlantic is really happy to be working with Purple Heart. It is extremely important for us to provide our crew with the skills and information to enable customers with dementia to travel as comfortably and safely as possible".
Reduced Mobility Rights has been spearheading the awareness campaign on flying with dementia, becoming the first European website to provide tips and a full checklist for flying mental conditions in 2013. This year, the organization presented a paper on flying with Alzheimer's at the Passenger Terminal EXPO 2014 in Barcelona, reminding airports of the challenge the condition poses to the air travel industry.
"We welcome the Virgin Atlantic which highlights the need for airports and airlines to provide their staff appropriate training to best cope with cognitive impairments," Reduced Mobility Rights founder Roberto Castiglioni said. "As leading experts in the field we are ready to help airports and airlines provide seamless journeys to people with cognitive impairments."