CSA Czech Airlines Fail To Meet EU Disability Standards
Written by George Sensalis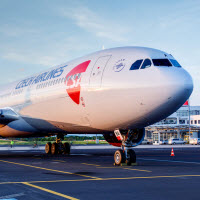 Reduced Mobility Rights' audit of the CSA Czech Airlines website reveals the flag carrier of the Czech Republic fail to meet EU disability standards.
Reduced Mobility Rights constantly reviews information airlines and airports make available to passengers with reduced mobility and other disabilities. European law mandates carriers and airport operators publish information on services and assistance available to passengers with disabilities. 
The vast majority of airlines and airports comply with the regulation. However, some operators continue to show lack of empathy towards the differently able. 
The national airline of the Czech Republic made its way to the short list of European airlines that fall below acceptable standards. CSA operate a fleet of 23 aircraft to 43 destinations. On October 1st Reduced Mobility Rights audited the UK facing version of the CSA Czech Airlines website.
To begin with, finding information for passengers with disabilities is very difficult. The path to follow is Home, Travel Information, Services, and Special Care. 
Last month the UK Civil Aviation Authority issued a notice to airlines and airports. In accordance with section 85 of the Civil Aviation Act 2012 operators are required to provide the information pertaining to the carriage of passengers with reduced mobility and other disabilities in accordance to its binding guidelines. Information should be provided on a single webpage one click away from the home page of the operator's website.
Information relating to disabled passengers on the CSA website comes after traveling with children, unaccompanied minors, and traveling with animals. Hopefully, the order in which information is presented does not represent the importance CSA gives to passengers with special needs.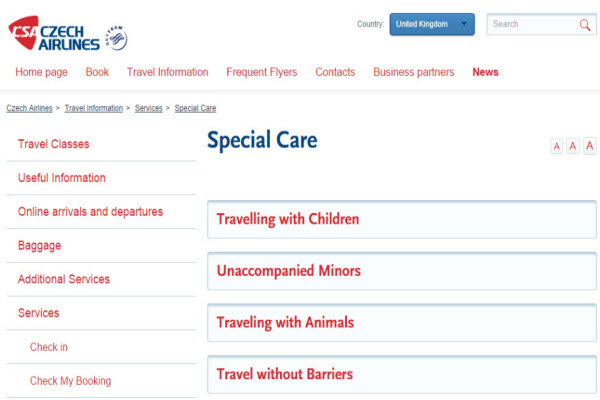 While auditing information available to the traveling public, Reduced Mobility Rights noticed to elements of possible non-compliance with EU Regulations.
CSA state that "the carriage of ill passengers or passengers with reduced mobility must be agreed upon and confirmed in advance (48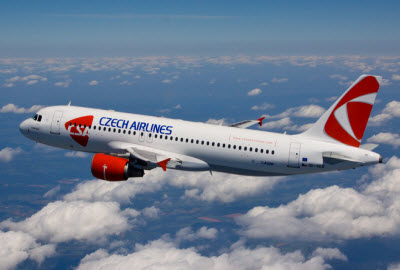 hours before their travel at a minimum)." While pre-booking assistance is always advisable, this is not a binding requirement, and carriage of disabled persons should be subject to any prior agreement.
Czech Airlines also state "acceptance of ill passengers and passengers with reduced mobility for air carriage is limited with regard to their own safety and the safety of other passengers," alluding to limits on the number of passengers with reduced mobility per flight.
EU Regulation 965/2012, which comes into force this October, may force airlines like CSA to abandon the discriminatory limit. The key change in the new regulation is that the National Civil Aviation Authority will have to approve, not just acknowledge, airlines certification materials.
Its predecessor, EU Regulation 859/2008 does not establish a limit of PRMs per flight. "Guidance Material has been interpreted differently by European National Authorities," a spokesperson for EASA, the European Aviation Safety Agency, told Reduced Mobility Rights. "While some have advised their operators that a rigid limit of 4 or 2 PRMs on board would not be appropriate, other National authorities have not done so."
"Quality, quantity, and accessibility of information for disabled passengers on the CSA website has room for improvement," Reduced Mobility Rights founder Roberto Castiglioni said." Hopefully our informal audit will allow the airline hastily improve its website and meet EU standards."