British Airways Apologise To Blind Man Denied Assistance
Written by Roberto Castiglioni
UK flag carrier British Airways apologised to a blind man who was denied assistance departing from London Gatwick airport.
"We got to the airport early, around 6.30am when our flight was at 8.25am," John Chapman's partner Angie recalled. "I informed the BA staff member he was blind but he did not ask if we needed any help or informed of what was available. "
Having flown before, Angie requested assistance for John when booking their short trip to Jersey. Two days before their departure she received confirmation assistance would be available.
"We struggled through security and departures," Angie said. "We went as fast as we could to the gate to find the gate was closed and they wouldn't let us on. We missed our flight." However, the worst was yet to come for John and Angie. 
"At the boarding gate the assistant told us not to worry we could rebook onto another flight and directed us to the information desk, Angie said. "At the desk we were told it was going to cost us £241 each for the next flight." Despite their complaint, BA staff did not show any empathy. The couple ended up having to pay £482 to get on the following flight.
"We had no pre-advised information from BA regarding that Mr Chapman would require assistance on the BA 2770 to Jersey," London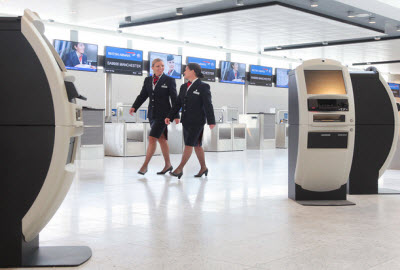 Gatwick assistance services told Reduced Mobility Rights.
On Monday, Reduced Mobility Rights received the following statement from British Airways.
"We work extremely hard to provide customers with the help and assistance they need during their journey and we are sorry that Mr Chapman and his partner had a difficult experience. We offered the couple free seat selection and priority boarding, but unfortunately their request for help in getting to the gate was not passed to the airport's assistance provider due to a computer glitch."
In taking responsibility for the incident, British Airways confirmed they will be refunding the money Angie and John had to pay to get on the following flight.
"We will be refunding the cost of rebooking the flights via an e-voucher, and we hope that Mr Chapman and his partner fly with us again soon, so that we can make amends and demonstrate the great service we offer thousands of customers each day."
"We think it's about time that the right assistance is offered to those who are visually impaired," Angie said."Airports and airlines don't appreciate what a stressful experience it is trying to navigate through a busy airport when you're trying to guide a blind person, take in all the information and get through the crowds."