Air Canada And Emirates Enhance IFE Accessibility
Written by Roberto Castiglioni
Emirates Airlines and Air Canada are the first airlines to enhance their In Flight Entertainment Systems accessibility for the visually impaired.
Last August, Emirates was the first airline in the world to introduce audio description soundtracks for selected movies on its flight entertainment system.
Sixteen Walt Disney Studios movies on the Emirates state-of-the-art ICE system now offer audio description, a recorded narration explaining the scene during gaps in dialogue.
"Making entertainment accessible to our diverse customers is very important to us," Patrick Brannelly, Emirates' Vice President Corporate Communications Product, said. "It was our motivation to introduce movies that can be enjoyed by customers with visual difficulties".
The Middle Eastern airline has been offering closed caption technology for people with hearing loss since 2007.
Meanwhile, Air Canada became the first airline in the world to offer an In Flight Entertainment System with a "text-to-speech"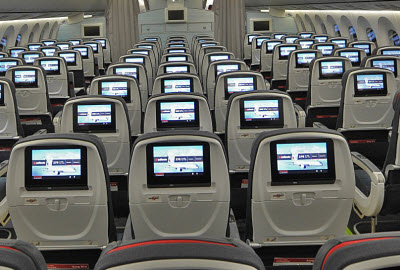 accessibility feature.
Visually impaired passengers may navigate the entertainment system with the support of audio cues, touch screen inputs and handsets. At this time the feature is available on the airline's Boeing 787 aircraft only. On the rest of its fleet, Air Canada uses tactile templates to facilitate IFE navigation for the blind.
The rush to enhancing accessibility of in-flight entertainment systems stems from a US Department of Transportation notice of proposed rule making on the issue of accessibility. The DOT seeks to implement changes addressing IFE accessibility for passengers with special needs in 2015.