San Francisco Airport Testing Assistive Technology For The Blind
Written by George Sensalis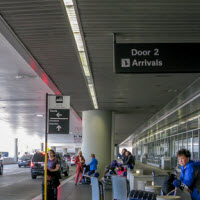 Blind passengers traveling through San Francisco International airport will soon make use of the revolutionary App based guidance system by Indoo.rs.
Second busiest in California after Los Angeles International Airport, San Francisco (SFO) is the seventh busiest in the United States and the 22nd busiest airport in the world.
The new, revolutionary beacon-based system is currently being tested at SFO. This new assistive technology connects a dedicated smartphone app with a network of 500 beacons placed at key areas around the terminal building. At this time the App is available for iOS devices only. However, an App for Android is in the works.
Engineered by indoor positioning and navigation firm Indoo.rs the assistive technology system works with the app to offer navigation within SFO terminals to visually impaired users. The system alerts users to keys areas inside the terminal such as restrooms, cash machines, lounges, and information desks. Alerts are vocalized using Apple's VoiceOver technology.
The best aspect of this system is its limited cost. According to Indoo.rs, beacons cost around $20 to produce; Batteries emitting beacon signals via Bluetooth last for up to four years. The system is still on trial, and should be ready for use in SFO Terminal 2 next Spring.