Moscow Domodedovo Airport Upgrades Services For Disabled Passengers
Written by George Sensalis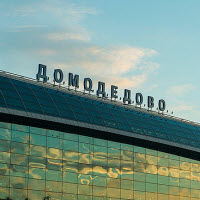 Russia's largest international airport, Moscow Domodedovo recently upgraded its services for disabled passengers.
In recent years, Domodedovo airport has seen a surge in passengers with disabilities.  In 2013, over 40.000 passengers with special needs travelled through Moscow Domodedovo Airport. In the first half of 2014 the number of passengers with disabilities already exceeds 21.500.
The airport features a fleet of state-of-the-art ambulifts to take passengers with reduced mobility aboard any type of aircraft. The service is operated by specially trained staff. 
Moscow Domodedovo Airport is the first Russian airport to adopt an induction system, allowing people with hearing loss to familiarize themselves with the announcement in all areas of the passenger terminal. The induction equipment is compatible with individual hearing devices of T type.
Calling points equipped with assistive technology for the visually and hearing impaired are scattered throughout the premises. The desks are conveniently located both in the territory of the landside and inside the terminal: by the entrances, at the parking lots, in the International Airlines Arrivals Area as well as in the international and domestic luggage claim areas.
Accessible toilets in the international and domestic airlines galleries of the terminal are equipped with special wall panels through which passengers can contact a dedicated airport employee to get on-the-spot assistance in case of an emergency.
Moscow Domodedovo signature feature is a mnemonic panel conveniently located to the left of the information desk on the first floor of the terminal building. The panel displays a detailed plan of the airport and is created in full compliance with the requirements for information desks for visually impaired passengers. 
All key elements of the scheme are accompanied by Braille and outline fonts. The scheme has floor plans, the main areas of the airport complex (departure / arrival, check-in, luggage claim, etc.), all services and a special area for people with reduced mobility where they can get information and assistance.