DOT Fines Turkish Airlines $300.000 Over Disability Complaints
Written by George Sensalis
The US DOT fined Turkish Airlines $300.000 for not responding in a timely manner to complaints filed by passengers, including disability related complaints.
On Friday, The Department of Transportation issued a statement saying that its Aviation Enforcement Office found that since August 2011, Turkish Airlines failed to provide timely responses to a large number of consumer complaints and several disability-related complaints that the Department's Aviation Consumer Protection Division received directly from consumers and forwarded to the airline.  
"When consumers file complaints with airlines, they deserve prompt and complete responses that appropriately answer their specific concerns," said U.S. Transportation Secretary Anthony Foxx.  "We will continue to take enforcement action when the rights of passengers are violated."
Turkish Airlines told the Aviation Enforcement Office that they have improved their procedures in order to ensure prompt responses and improved customer service, they have centralized and prioritized the complaint response coordination; quadrupled the number of customer service agents in the United States; implemented new complaint management software; retrained its customer service employees; and has adopted, or is experimenting with, a number of other customer service-related improvements. Turkish also said it provided vouchers to complainants who may not have received a timely complaint response.
The US DOT found that Turkish Airlines violated 14 CFR 259.5(b)(11) and 259.7(c) by failing to provide timely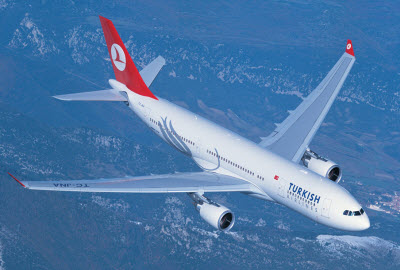 substantive responses to complaints involving scheduled service, and violated 14 CFR 382.155(d) by failing to provide timely dispositive written responses to written disability-related complaints alleging a violation of Part 382.
The DOT assessed Turkish Airlines a civil penalty of $300,000, whereby $280,000 of the assessed civil penalty to be paid within 60 days of the service date of the order, and. $20,000 to be be credited to Turkish Airlines for vouchers that were provided to affected consumers.
The DOT also issued Turkish Airlines with an order to cease and desist from further violations of 49 U.S.C. §§ 41705 and 41712 and 14 CFR Parts 259 and 382.
The DOT believe this ruling is a strong incentive for Turkish Airlines and other carriers to provide substantive and dispositive responses to complaints in a timely manner, as required.
A Los Angeles Times analysis of Federal citations found that between 2010 and 2013 the number of fines imposed on airlines by the United States Department of Transportation nearly doubled. The steepest penalties were imposed against airlines that mistreated disabled passengers.