TAROM Settle With Disabled Woman Denied Boarding
Written by George Sensalis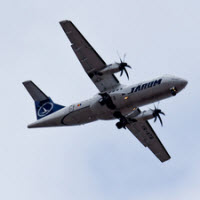 Romania flag carrier TAROM has settled a complaint filed over six month ago by a disabled woman denied boarding at Sofia International airport.
Dilyana Deneva works for the Centre For Independent Living Sofia, a Bulgarian disability organization part of the European Network on Independent Living. Last February, Dilyana was all set to fly from Sofia to Dublin on business.
"On 5th February 2014 I had to travel to Dublin via Bucharest with the Romanian airlines TAROM in order to attend a very important staff meeting," Dilyana recalls.
Dilyana purchased her ticket from a travel agent several days before the date of her trip. "At the time of booking my flights I made it clear that I'm a wheelchair user and I need assistance at the airport, and that I did not require assistance on board of the plane as I can stand up and make a few steps to my seat with the help of my mother," the young woman said.
"When I arrived at Sofia airport I checked in normally, the special assistants helped me throughout the security check,
took me on their special vehicle going to the plane and when I had to step into the plane, the cabin crew stopped me."
The disabled woman was taken back to the terminal building following a short argument between cabin crew and airport agents helping her. "Cabin crew didn't even ask if I can walk, whether I need their assistance or not, nothing at all," Dilyana said. "Back at the airport staff explained that I could not get on board because the plane is too small and in case of emergency people with mobility difficulties would impede evacuation."
Humiliated and distressed, Dyliana was not offered an alternative mean of travel or a refund of what she had paid for her ticket. "The airline sent me an email, stating that TAROM will check my case and will get back to me within 30 days," the woman said." This was the first and last time I heard from them."
After several months of silence, Dilyana approached Reduced Mobility Rights, seeking help with her case. "On behalf of TAROM we apologize for the inconvenience," a spokesperson for the airline said on Tuesday. "We don't know exactly what happened with her claim and this is why she never received an answer from us."
The airline pointed out that delivery of assistance to disabled persons depends on passengers notifying their needs at least 48 hours before their scheduled time of departure, and the transmission of this information to those involved in providing the assistance. 
TAROM also said that booking agents have a vital role in this process and should receive specific training on how to seek and record this information and to ensure that it is passed on correctly.
"In Mrs Deneva's case, the travel agent disregarded that the level of assistance required was never confirmed by TAROM," the spokesperson said. "This is because on flights operated by ATR42/ATR72 aircraft we cannot accept any passenger with severe reduced mobility because this type of aircraft does not have folding armrests, allowing passengers with reduced mobility to seat."
The airline also said that after receiving a negative answer regarding the WCHC request, the travel agent changed the request to WCHR. "This request wasn't the right one since the passenger was not able to walk," TAROM said. "When asking for WCHR, it is mandatory that the passenger must walk the distance from the aircraft entrance to the seat and also must be able to attend his own needs during the flight, without any assistance from the cabin crew, which was not the case."
However, under EU Regulation, the airline should have offered Dilyana an alternative mean of travel or a full refund for her tickets. "We are really sorry for the inconveniences experienced by Miss Deneva," the spokesperson added. "TAROM do not want to restrict in any way the right to travel of persons with reduced mobility but on the other hand we have to respect internal regulations."
TAROM also said they are settling this old complaint. "We will approve the refund of the entire value of her tickets." 
News of the settlement was well received. "I cannot think of the best words to express my gratitude for your assistance," Dilyana told us. "I am truly impressed that within 24 hours you managed to solve the case which is wracking my nerves for months!"