Malaysian Airlines 777 Crashes In Rebel Held Zone Of Ukraine
Written by George Sensalis
Malaysian Airlines Flight MH17 has crashed in a region of Ukraine where government forces are battling pro-Russian fighters.
A Malaysian Airlines Boeing 777-200 operating flight MH17 between Amsterdam Schiphol and Kuala Lumpur has crashed in an area of intense fighting. All 280 passengers and 15 crew on board are presumed dead.
An Interfax report said the plane came down on Thursday short of entering Russian airspace. It "began to drop, afterwards it was found burning on the ground on Ukrainian territory," an unnamed source told Reuters. The Boeing 777 crashed near the town of Shakhtyorsk.
Update 16.48 GMT 17/07/2014
"Today, at approximately 4:20 p.m. Malaysian Airlines No. 17, which was flying the route from Amsterdam - Kuala - Lumpur, disappeared from radar screens.
In recent days, this is the third tragic accident, after the AN-26 and SU-25 aircrafts of the Armed Forces of Ukraine were shot down from the Russian territory. We do not exclude that this aircraft was also shot down, and stress that the Armed Forces of Ukraine did not commit any actions in the air [at the time of the downing].
The President of Ukraine on behalf of the State expresses its deepest and most sincere condolences to the families and relatives of those killed in this terrible tragedy. Every possible search and rescue effort is being made."
Update 17.21 GMT 17/07/2014
"Malaysia Airlines confirms it received notification from Ukrainian ATC that it had lost contact with flight MH17 at 1415 (GMT) at 30km from Tamak waypoint, approximately 50km from the Russia-Ukraine border.
Flight MH17 operated on a Boeing 777 departed Amsterdam at 12.15pm (Amsterdam local time) and was estimated to arrive at Kuala Lumpur International Airport at 6.10 am (Malaysia local time) the next day.
The flight was carrying 280 passengers and 15 crew onboard."
Update 18.00 GMT 07/07/2014
In a post on his page of Russia's largest social media site VKontakte, pro-Russian separatist leader Igor Girkin allegedly wrote: "In the vicinity of Torez, we just downed a plane, an AN-26. It is lying somewhere in the Progress Mine. We have issued warnings not to fly in our airspace. We have video confirming. The bird fell on a waste heap. Residential areas were not hit. Civilians were not injured." 
The post appeared minutes before first news of the downing of Malaysian Airlines Flight MH17 surfaced.
Ukraine pro-government militia claim the airliner was shot down over territory controlled by pro-Russian separatists. Just 24 hours ago a Ukrainian security spokesman accused Russian air force of shooting down one of its jets while it was on a mission over Ukrainian territory. Andriy Lysenko the Su-25 fighter jet was downed on Wednesday evening. However, Russia's defence ministry called the accusation "absurd".
The airliner is the same model of the one operating flight MH370, the Malaysian Airline flight that mysteriously disappeared in the night of March 7 2014. The wreck of the aircraft is still missing.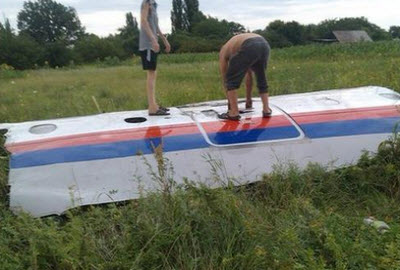 The downing of flight MH17 could trigger a rapid military escalation, internationalizing the conflict between pro and anti-Russian sides in Ukraine.