AirServ Forced To Settle Pay Dispute With JFK Wheelchair Agents
Written by George Sensalis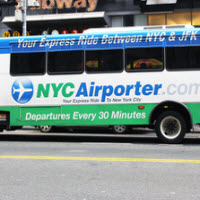 AirServ Corporation will pay full restitution plus penalties to 300 JFK wheelchair agents after entering a settlement with New York's Attorney General's Office.
Last January, the New York Daily News came across an Air Serv internal memo informing its wheelchair agents at JFK airport their pay would remain at $7.25 an hour despite the state of New York raising it to $8.
New York State law allows for service workers in the hospitality industry who rely on tips to be paid a minimum of $5.65 an hour. A day after New York raised its minimum wage to $8 an hour, AIrserv told its workers at JFK, LaGuardia and Newark airports they had been reclassified as tip-wage positions.
"Most people don't tip," an Air Serv wheelchair agent working at JFK said. "They think this is a service that the airline provides. They think that if they paid the airlines a certain amount, why do they have to tip us?"
"There is a clear correlation between low salaries, heavy workloads and high employee turnover, low morale, poor performance," the Reduced Mobility Rights ground breaking report on assistance levels at European airports found.
"This was an extremely tough decision, and we understand the impact this will have on you and your family," says the memo signed by AirServ general manager Robert Sagginario. "However, please know that we considered several other alternatives, and the choice we made is the best option at this time and will have the least impact on our employees overall." In 2013, Air Serv reported operating profits of $119 million.
The airline industry contractor move on minimum wages did not go unnoticed. Last month, New York Attorney General Eric T. Schneiderman announced a settlement of almost $20,000 with Air Serv Corporation, for underpaying nearly 300 minimum-wage wheelchair attendants. 
The bulk of the settlement funds, nearly $16,000, will be distributed to the agents whose wages were not increased by the company when the state's minimum wage rose to $8 an hour, from $7.25 an hour, on December 31. Under the agreement, Air Serv must also pay $4,000 in penalties to New York State.
In addition to payment of restitution funds and penalties, Air Serv will designate a compliance officer responsible for ensuring the proper use of the tip credit. 
For 18 months, this compliance officer will furnish the Attorney General's Office with quarterly reports for any quarter during which a tip allowance is taken in order to ensure that tip credits are taken only when permitted by law.
"Minimum-wage employees must be paid a legal wage and not a lower tipped wage unless their employer has complied with all the legal requirements for taking a tip credit," Attorney General Schneiderman said. "My office will be vigilant and take action to protect minimum-wage and other low-wage workers."
AirServ is not new to controversy over pay. Last June, 13 people were arrested outside Minneapolis Airport for staging a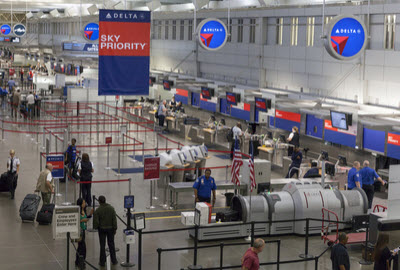 protest outside Terminal 1 calling for better training and higher wages for wheelchair agents. All the arrested were charged with unlawful assembly and released.
At the Minneapolis-St. Paul International Airport, where 75 percent of arriving or departing flights are operated by Delta, the airline contracts with AirServ to provide the wheelchair and electric cart service to passengers.
Part of ABM, Air Serv provides a number of services to the aviation industry, including assistance for passengers with disabilities. The company employs 8,000 people and provides services at airports throughout the United States and United Kingdom. In the UK Air Serv is known as OmniServ, the company providing wheelchair assistance at London Heathrow and London Stansted airports.