NAIA Manila Airport Downplay Disability Complaints
Written by Roberto Castiglioni
"Wheelchair pushers are hired by the airline companies," a spokesperson for Manila's NAIA airport said addressing allegations of hustles against disabled passengers.
"At NAIA, we have very good and attentive staff but there are a few bad eggs. Some mercenary staffs (contracted by the airlines) ask for big tips from the handicapped," an article appearing on Business World Online alleges.
"With reference to the wheelchair pushers, please be informed that they are hired by the airline companies, but we are also looking into it," a spokesperson for Ninoy Aquino International Airport told Reduced Mobility Rights on Monday. "If the complainant can provide detailed information to identify the employee/s involved, we can recommend disciplinary action from their employers."
Fraudulent solicitations and hustles against passengers with disabilities are not the only problems vulnerable passengers experience at Manila's main airport.
Last month Samson Alcantara filed a lawsuit against budget airline AirAsia Zest and the Manila International Airport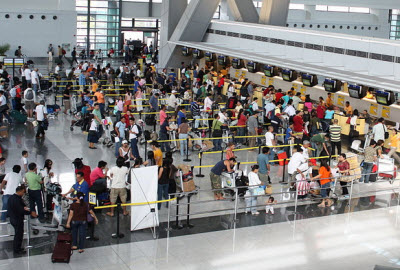 Authority. In the lawsuit, the man alleges he injured his elbow after fainting due to heat exhaustion.
Mr Alcantara's is the latest in a string of incidents involving vulnerable passengers at Ninoy Aquino International Airport. In April, an 11-year-old fainted due to extreme heat while queuing at immigration at Terminal 1. In May, a woman queuing with her family at immigration suddenly collapsed. She was revived by medical emergency workers called in by Immigration officers.
In his lawsuit, the man alleges AirAsia Zest and the Manila International Airport Authority demonstrated "malevolence and callousness" in their use of the terminal's check-in area for not providing sufficient facilities. The suit cites Section 9.2 of the Air Passenger Bill of Rights which states that there must be at least one check-in counter per airline that prioritizes persons with disabilities, senior citizens, and persons requiring special assistance.
The spokesperson for NAIA declined to comment on Samson Alcantara lawsuit, saying that "the Legal Office of MIAA shall be more knowledgeable on the issue of the complaint filed by Mr Alcantara."
The Manila airport website does not provide any information concerning terminals accessibility, accessible facilities and services available to passengers with disability.
"The MIAA has a Committee that handles accommodations on the rights of persons with disabilities and comments and/or suggestions are welcome," the spokesperson said. "We also have the Customer Relations Center (CRC) that handles complaints and suggestions." NAIA did not specify how passengers can get in touch with the Committee.
"Taxis are not even safe to take because passengers get ripped off or robbed by drivers and criminals," the Business World Online said. Between June 2 and June 16, the MIAA airport police department arrested 85 people preying mostly on passengers at NAIA parking lots and arrivals halls.
"The intensified campaign against these elusive elements aims to address complaints from airport users who have been victims of their solicitation techniques," Manila International Airport Authority management said in a statement.
The travel website Sleeping In Airports voted Manila International the worst airport in the world for 2013. Crowded terminals, long delays, difficult transfers, lack of round-the-clock food outlets, dirty bathrooms, and unfriendly staffs are among the criteria leading to the negative rating.
Reduced Mobility Rights recommend passengers with disabilities flying to and from NAIA plan their journey with extra care. We strongly suggest passengers arrange personal assistance for the entire duration of their stay at Manila International airport.