Manila Airport Authority Malevolent And Callous Towards Disabled People
Written by George Sensalis
Manila International Airport is under scrutiny following a lawsuit highlighting a number of incidents involving elderly and disabled passengers.
Mr Samson Alcantara filed a lawsuit against AirAsia Zest and the Manila International Airport Authority following an injury the man suffered on 23 May. In the lawsuit, the man alleges he injured his elbow after fainting due to heat exhaustion.
Mr Alcantara's incident is the latest in a string of events involving vulnerable passengers at Ninoy Aquino International Airport. In April, an 11-year-old fainted due to extreme heat while queuing at immigration at Terminal 1. At the beginning of May Mrs Angelita Baroso also fainted at Terminal 1 due to heat exhaustion. The woman had been queuing with her family at immigration when she suddenly collapsed. Mrs Baroso was revived by medical emergency workers called in by Immigration officers.
Mr Alcantara, who is a lawyer, was traveling to Malaysia accompanying colleagues from the University of Santo Tomas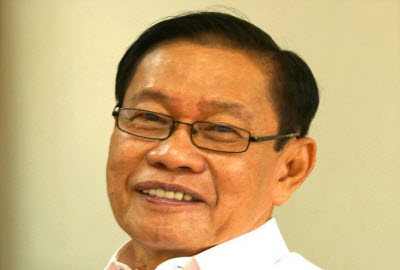 Faculty of Civil Law. The man lost consciousness, fell on the floor, and sustained injuries in the head and left elbow while waiting to check in for his flight. Following the fall, he was brought to a Hospital where he was kept for three days.
The Manila International Airport Authority issued a press statement claiming the man's fall was due to hunger, a claim Mr Alcantara rejected. 
In his lawsuit, the man alleges AirAsia Zest and the Manila International Airport Authority demonstrated "malevolence and callousness" in their use of the terminal's check-in area for not providing sufficient facilities. The suit cites Section 9.2 of the Air Passenger Bill of Rights which states that there must be at least one check-in counter per airline that prioritizes persons with disabilities, senior citizens, and persons requiring special assistance. If impractical, the air carriers must provide priority handling and processing for these types of passengers.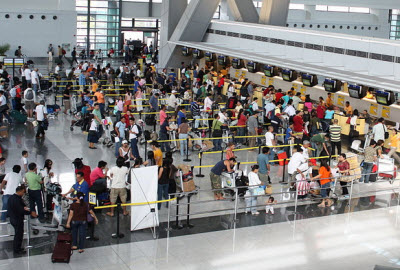 The travel website Sleeping In Airports voted Manila International the worst airport in the world for 2013. Manila was first named as the world's worst airport in 2011 and the worst in Asia in 2012. Crowded terminals, long delays, difficult transfers, lack of round-the-clock food outlets, dirty bathrooms, and unfriendly staffs are among the criteria leading to the negative rating.
"We should have friendly, efficient and honest staff to handle disabled passengers," an article appearing on Business World Online says. "Our service leaves much to be desired compared to other countries. In Spain, France, or Denmark, for example, passengers in wheelchairs are treated with respect and care. The staffs do not expect tips but they request that the passenger fill out a form that rates their service. At NAIA, we have very good and attentive staff but there are a few bad eggs. Some mercenary staff (contracted by the airlines) ask for big tips from the handicapped."
The airport website does not provide any sort of information concerning terminals accessibility, accessible facilities and services available to passengers with disabilities. Manila International Airport Authority was unavailable to comment.