All Nippon Airways Wheelchair Service Review
Written by George Sensalis
ANA's wheelchair service information for passengers with reduced mobility sets the benchmark for clarity and user-friendliness.
Operating a fleet of 202 aircraft to 73 domestic and international destinations, All Nippon Airways is Japan's largest airline per passenger flown.
In recent weeks Reduced Mobility Rights reviewed ANA's special assistance page, which was found to be easy to read and very informative. 
Booking process
Passengers with physical limitations are invited to make ANA aware of their needs at the time of booking. The airline provides the following three examples to help passenger determine their need for assistance:
Can ascend or descend stairs by myself but cannot walk long distance (WCHR)
Can walk alone but cannot ascend or descend stairs by myself (WCHS)
Cannot walk by myself (WCHC)
Selected seats have movable armrests on both domestic and international All Nippon Airways economy class. The
location of such seats depends on the aircraft type. ANA reminds passengers with reduced mobility to let the airline know if they require movable armrests at the time of booking. 
The special assistance page provides passengers a printable checklist that can be filled in and faxed to ANA's Disability desk or handed over to the check-in counter upon arriving at the airport.
Passengers traveling with electric wheelchairs are asked bring along the operation manual especially if the battery type cannot visually be identified. Some type of battery powered wheelchairs may not be accepted for carriage due to the aircraft size or type of battery. Passengers are asked to provide the airline's Disability desk full details of their mobility device at the time of booking.
At the airport
Normally, wheelchair service is available from the check-in counters in the ANA departure Lobby at both domestic and international airports. Because there may not be wheelchairs in the parking lots or on the curbside, passengers are invited to have someone collect the wheelchair from the ANA ticketing counter. ANA reminds passenger to always fasten the seat belt when using a wheelchair.
ANA provide bespoke airport wheelchair service at domestic airports. The airline's wheelchairs feature removable outer wheels and folding armrests to fit the narrow aisles in cabin and take passengers straight to their aircraft seat. These wheelchairs are available at domestic airports only.
Extra-large wheelchair service is also available at selected domestic airports. XL wheelchairs cannot fit aircraft aisles, and are available in the following airports: Chitose, Narita, Haneda, Nagoya, Kansai, Itami, Fukuoka, Okinawa.
Customers checking electric wheelchairs for domestic flights are asked to be at the check-in counter at least 60 minutes before departure (120 minutes before for international flights) as it may take some time to load the wheelchair in the cargo hold.
Passengers with reduced mobility are offered the option to pre-board the aircraft.  Passengers wishing to pre-board should inform staff at the boarding gate.
In the effort to improve accessibility, some airports are equipped with special boarding access facilities such as ambulift, aisle stretcher, ramps, and wheelchair stair lift. Wheelchairs can be lifted to the door of the aircraft via the bespoke wheelchair stair lift designed for the Boeing 737 aircraft.
On-board
ANA provide support belt for passengers who have difficulties in keeping an upright sitting position. A support belt is a supplementary belt designed to hold the upper body. (Belt size: width 12 cm, length 150 cm). There are two types of support belts; with shoulder belt and without shoulder belt.  Passengers requiring support belts must contact ANA Disability Desk in advance.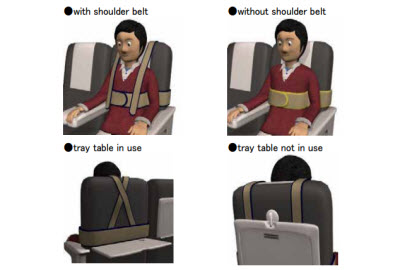 Folding cabin wheelchairs (aisle chairs) are available for use on board the aircraft. Passengers wishing to use the on-board aisle chair should ask a cabin attendant as only staff can activate cabin wheelchair brakes. The chair armrests are connected and may not be lifted individually.
The vast majority of All Nippon Airways aircraft feature lavatories designed to allow cabin wheelchair entry and are equipped with support handles to assist movement from the chair to the lavatory.
Wheelchair service on arrival
Passengers requesting special assistance when deplaning must remain seated until staffs arrive to escort them off the plane. Assistance staff will take passengers to the arrival lobbies or your pick-up points.
Passengers traveling with their personal wheelchair will have their mobility device returned at the arrival lobby where staff will assist them transferring from the airport's wheelchair into theirs.
ANA Disability Desk is open seven days a week from 9 AM to 5 PM (Japan time). It can be contacted by phone (domestic 0120-029-377/International 03-6741-8900), fax (domestic 0120-029-366), or chat (follow link).