RGK TIGA FX Aircraft Friendly Wheelchair
Written by Roberto Castiglioni
The new RGK TIGA FX concept may as well be the aircraft friendly wheelchair frequent flyers have been looking for.
Well built, reliable, long lasting. Made using space age technology, the aluminium frame and Kevlar armour provide exceptional strength and durability whilst dramatically reducing the weight of the RGK TIGA FX wheelchair.
"The folding system doesn't compromise at all the rigidity of the chair," Sir Philip Craven, President of the International Paralympic Committee (IPC), said in the testimonial for TIGA FX. "This incredible new wheelchair is going to take all the pressure and stress out of flying and will make it more enjoyable for wheelchair users."
"For a long time wheelchairs have been clunky and a hassle, something we at RGK are trying to change," Russell Simms, Commercial Director of RGK, said. "TIGA FX brings to life what we believe a wheelchair should be, light, strong and practical plus in many cases will open up access and rights to travel that have denied too many people for far too long."
TIGA FX folds in less than a minute using a revolutionary front first fold system rather than the traditional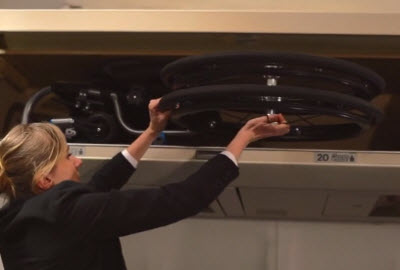 clunky sideways. The wheelchair folds into a briefcase style shape that fits aircraft overhead lockers, as well as small cars boots or any other limited space.
"A chair that's made to measure is part of me, it fits me," Alison Gibson, Rehabilitation officer, said.
"I'm in planes all the time and not knowing whether my chair will be at the aircraft door upon arrival, has been the bane of my life," Sir Philip Craven added. Being able to store a personal wheelchair in the overhead bin dramatically reduces the possibility of loss or damage.
RGK TIGA FX wheelchair size and light weight make it welcome news for ground handlers and airlines as well. On flights from and to the United States airlines must store personal mobility devices inside the cabin. 
Cost is the only downside of this revolutionary wheelchair. RGK TIGA FX starts at £1.800 (USD 3,000 / EURO 2.250). The wheelchair offers optional features like fold flat side-guard options, push handle options, ergonomic seating, footrest options, wheel, hand-rim and tyre options, anti-tip options, and brake options.