ABTA Referred To CAA For Allowing Members Breach Disability Law
Written by George Sensalis
ABTA, the Association of British Travel Agents, has been referred to the UK Civil Aviation Authority for allowing its members breach air travel disability law.
"Ten months are nine too many to make any member comply with Regulation 1107/2006, the air travel disability law," Reduced Mobility Rights Director Roberto Castiglioni said.
In August 2013 Reduced Mobility Rights assessed 38 websites of popular travel agents. The audit found that only ten per cent of all sites provide sufficient information; 70% provide insufficient information; 20% did not provide any information at all. The vast majority of these websites belong to ABTA members. Among the non-compliant website, RMR singled out www.justtheflight.co.uk.
"The law is crystal clear; airlines or their ticket agents must make essential information available to passengers with disabilities at the time of booking. ABTA member justtheflight.co.uk did not when we first assessed it," Castiglioni said. 
Following RMR report, ABTA pledged to take swift action on those members found not providing information essential to passengers with special needs. In a meeting held at the end of August 2013 Susan Parsons and Gillian Edwards of ABTA agreed more needs to be done to improve the quantity and quality of information available to passengers with special needs on members' websites.
At the end of January 2014 ABTA was once again reminded that their member justtheflight.co.uk remained defiant to the call to comply with disability law. 
"We will continue to look into allegations of individual breaches by our members when these are raised with us," ABTA's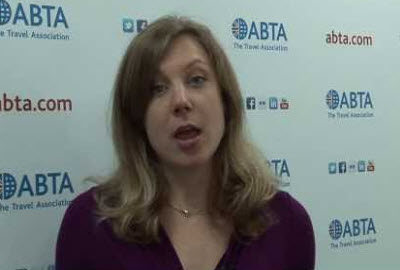 Susan Parson said in reply to our request urging the Association to have its members comply with the law. "We will continue working with our members on accessibility generally to ensure that all passengers receive a quality experience."
On May 1st, ABTA issued a public reminder to all members. "[] building clear, up to date and user friendly websites is in everyone's interest. It is also important for travel businesses to understand that getting this right is a legal requirement and failure to comply with Regulation 1107 is an offence," Nikki White ABTA Head of Destinations and Sustainability said.
Article 4.3 of Regulation EC1107/2006 states that airlines and their agent shall make publicly available the safety rules that apply to the carriage of disabled persons and persons with reduced mobility, as well as any restrictions on their carriage or on that of mobility equipment. Article 6.1 requires airlines, their agents, and tour operators ensure receipt of notifications of the need for assistance made by disabled persons or persons with reduced mobility at the time of booking.
The Passenger Rights Unit at the European Commission recently issued a statement on the matter of essential information. "The provision of accessible information prior to booking is seen as an essential element to allow PRM passengers to prepare their journey in full knowledge of all safety rules and possible restrictions an air carrier may apply."
"Facts are facts," Castiglioni said. "ABTA was made aware on August 2013 and pledged to take action; they were reminded in January 2014, and once again pledged to take action. To date, 20 June 2014, their member justtheflight.co.uk continues to breach Regulation 1107/2006."
An assessment of the justtheflight.co.uk website conducted on 20 June 2014 found that no change or update to comply with air travel disability law. Passengers booking flights through this website are not provided essential information or the opportunity to book for assistance during the booking process. "Enough with window dressing announcements and empty pledges," Castiglioni added. "People with disabilities already have a difficult life. It's basic human decency not to make it any harder than necessary."
On Friday, Reduced Mobility Rights referred the matter to the Civil Aviation Authority for enforcement. "We have referred Online Regional Travel Group (ORTG) Ltd dba justtheflight.co.uk, for breaching articles 4.3 and 6.1 of the Regulation and ABTA for knowingly allowing justtheflight.co.uk breach the law, requesting the National Enforcement Body enforce (EC)1107/2006," Castiglioni said.