Delta Give Poor Wheelchair Assistance At Minneapolis Airport SEIU Say
Written by Roberto Castiglioni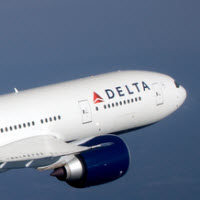 A SEIU Union report puts Air Serv, Delta Airlines contracted wheelchair assistance provider at Minneapolis International airport  under scrutiny for providing poor training, slow assistance, and  for paying low wages. 
On Monday, 13 people were arrested outside Minneapolis Airport for staging a protest for better services for passengers with disabilities. Over 100 workers, disability advocates and union members staged the protest outside Terminal 1 calling for better training and higher wages. All the arrested were charged with unlawful assembly and released.
According to an airline internal audit of ten largest Delta airports around the US, Minneapolis consistently scores number nine or ten in quality of service for passengers with disabilities. A Delta Airlines representative made the statement at a May 19, 2014 meeting of the Metropolitan Airports Commission (MAC), the governing body of the Minneapolis-St. Paul Airport, the critical report published by SEIU say.
According to the Union, Delta measure wheelchair assistance performance by the number of complaints per Special Service Request (SSR). The SSR is a passenger's request for assistance with a wheelchair either when transferring, terminating or starting their trip at the airport.
In the "Able, But Not Willing" report published by Service Employees International Union (SEIU) Local 26, Delta allegedly acknowledge the company contracted to provide wheelchair assistance at Minneapolis airport would "send one wheelchair pusher for three or four people that might need service off the airplane. Well, when you do that, you force yourself into grabbing one person off the airplane, taking them to a blue chair, having them wait for a cart, go get the next one, go get the next one."
At the Minneapolis-St. Paul International Airport, where 75 percent of arriving or departing flights are operated by Delta,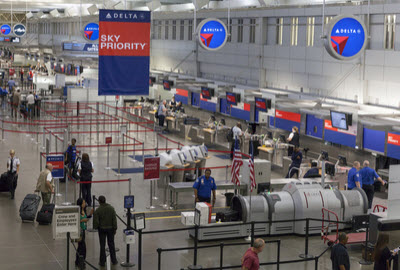 the airline contracts with Air Serv to provide the wheelchair and electric cart service to passengers.
Part of American Building Maintenance, Air Serv provides a number of services to the aviation industry, including assistance for passengers with disabilities. The company employs 8,000 people and provides services at airports throughout the United States and United Kingdom. In the UK Air Serv is known as OmniServ, the company providing wheelchair assistance at London Heathrow airport.
According to SEIU, the low wages and minimal benefits Air Serv pays to wheelchair attendants and cart drivers is "particularly disconcerting" considering Air Serv's parent company ABM provides janitorial services at MSP Airport and pays those workers almost double the $7.25 an hour its subsidiary Air Serv pays wheelchair attendants. The Union say that, even working full time at minimum wage, passenger service workers earnings are well below the US poverty line.
According to the critical report, Air Serv "low pay results in high turnover which, combined with already poor training standards, means passengers are often assisted by an inadequately trained and inexperienced workforce." 
A Survey of over 100 wheelchair attendants and cart drivers at the Minneapolis International Airport conducted by SEIU Local 26 in 2013 found Air Serv does not provide any paid time off, such as sick days or vacation, to its employees at MSP. "Two-thirds of surveyed wheelchair agents and cart drivers at MSP reported having come to work sick because they don't have paid sick days." The Union points out Air Serv parent company ABM has paid sick days, vacation and holidays for janitors who clean Minneapolis airport.
SEIU say "It is unrealistic for the Metropolitan Airports Commission to think it can provide Minneapolis airport customers with the 'best airport experience in North America' when the workers who are crucial to shaping that experience are paid poverty wages and treated without respect or dignity."
Both Delta Airlines and AirServ declined to comment. Click here for the full "Able, But Not Willing" report from SEIU Local 26