IndiGo Airlines Introduce Stair Lifts For Disabled Passengers
Written by Roberto Castiglioni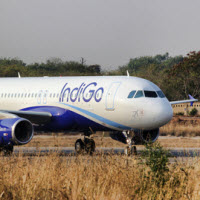 India's biggest budget airline by market share IndiGo announced the rollout of stair lifts for disabled passengers at airports where ramps are not available.
IndiGo airline is the largest airline in India operating a fleet of 78 Airbus A320 aircraft to 36 domestic and International destinations. IndiGo is the only airline in the world regularly operating a boarding ramp allowing wheel chairs and stretchers to be taken right into the aircraft effortlessly.
However, boarding ramps are not available at all airports served by IndiGo. "IndiGo is proud to be the first airline in India with dedicated stairlifts for passengers with special needs." a spokesperson for the budget carrier said. "At airports around the country that do not use ramps, we will be introducing these motorised chairs that enable passengers to board and deplane in complete comfort."
"This is no doubt a welcome step as it will help many elders and those passengers with disabilities who can transfer easily on their own but this still fails to address the needs of those who are in wheelchairs and have problems in transfers," a spokesperson for AccessIndia said.
In December 2013 IndiGo apologised after its ground staff at Kochi airport asked wheelchair user Mrs Chib to fill in an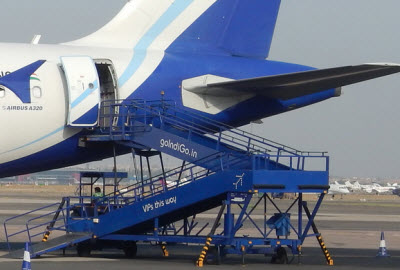 indemnity bond.  "Our ground staff manager asked Ms Chib to fill the indemnity bond, which is not as per our policies and procedures," an IndiGo airline spokesperson told Reduced Mobility Rights. "One of our colleagues made a mistake and we apologise profusely."
IndiGo impose a limit of four passengers with severe reduced mobility (WCHC) per flight. "[International rules] state that the number of persons with reduced mobility should not exceed more than persons capable of assisting with evacuation," a spokesperson for the airline told Reduced Mobility Rights. "But the question still remains; how many such people will volunteer? We train our cabin attendants to be able to evacuate with the non-ambulatory passenger, if time permits and there is no danger to their lives as they are responsible to all other passengers as well. We believe that our cap on the number is honest and is demonstrative of our operational capabilities rather than a utopian promise."