Airport Security Checkpoints Must Provide A Dignified Experience
Written by Roberto Castiglioni
The vast majority of passengers see airport security checkpoints as a dreadful part of the journey, often failing to provide a dignified experience. This negative perception is magnified when passengers have special needs.
Few months ago, a Long Island family missed their flight from JFK Airport in New York to Florida after a Transport Security Agency representative picked on Dina Frank, a disabled seven-year-old girl who suffers from cerebral palsy.
Dina was unable walk through the metal detectors without setting alarms off because of her crutches. She was instead subjected to an intrusive pat down by TSA security agents. The Transport Security Agency refused to apologise for the incident.
We take a figurative hop across the Atlantic and find more humiliating experiences. "Since my father does suffer from dementia, it is important that my mother stay with him to assist him. (His memory and cognition is much worse than people may guess just by looking at him.)," the concerned daughter of a passenger traveling through London Heathrow airport told Reduced Mobility Rights. "However, without even asking, the attendants at Heathrow split my parents and family up in the security check lines, which caused significant confusion for everyone."
Reduced Mobility Rights understands Heathrow management engaged with the passengers and will be meeting them on their return.
"I got pretty stressed and upset at how I was treated going through security at Stansted airport," a passenger told this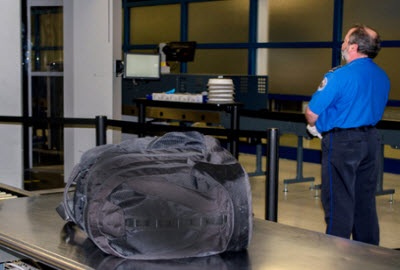 website. "I thought I was well prepared and after having one hip replaced in 2009, I knew there would be an issue with the scanners, so I had card from an organisation, stating my hip replacement details."
No matter how well prepared, the passenger ended up having a truly humiliating experience. 
"They seemed uninterested in acknowledging my documents; they asked me to take jewelry off, which I did, I had to give them my stick and they replaced it with another, they put a hand held scanner up and down my body." After being patted down in plain view, the disabled woman was taken to a search room where she was made to stand while being patted down one more time. "It was very worrying and, quite frankly, scary." Contacted at the time of the incident, London Stansted airport declined to comment.
Few days ago I travelled to Brussels with a colleague on a wheelchair. She was thoroughly searched and patted down in plain view at both London Gatwick and Brussels airport. At Gatwick she was forced to remove a light jacket before going through the checkpoint. "Sorry, it's the rule," a security staff told my colleague. However, an able body woman in front of her was allowed to go through the checkpoint wearing her jacket.
There is no justification for humiliating a person, regardless of his or her needs. There is no justification for accepting such behaviours on disabled passengers at airport checkpoints. Safety and security of all passengers is of paramount importance; however it must not be delivered through needless humiliation. A fair balance between security protocols and a dignified experience can be found to make everybody's journey better.
Better staff training, separate search rooms, recompose areas where people can re-dress without being pushed or rushed, dedicated security channels for families with children, the elderly, and passengers with special needs are cost effective, simple enough solutions that can eliminate most problems passengers experience at airport security checkpoints.