Heathrow Airport Unveil New Facilities For Disabled Passengers
Written by Roberto Castiglioni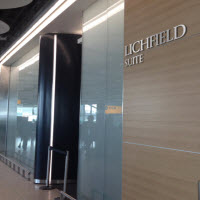 Heathrow Terminal 5 unveil new facilities for passengers with disabilities departing or transiting through London's hub airport.
Heathrow management poured nearly one million pounds to fully refurbish accessible lounges of its flagship T5. Mark Hicks, head of passenger support services, spearheaded the team that worked at delivering greatly improved facilities for passengers with special needs.
In the Spring of 2013 Heathrow began renovations at Terminal 5 in the effort of closing gaps with other airports and provide passengers with disabilities a better experience. 
Terminal 5 now offers passengers with disabilities access to a fully equipped changing room. Known as "changing place", the suite was designed in conjunction with the UK charity Changing Places, is aimed at those with more severe disabilities, both physical and learning, and for whom standard disabled facilities may not be enough.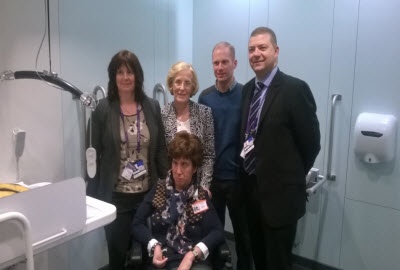 "This new Changing Places facility will be of real benefit to some of our passengers with a disability and is a great addition to T5," Mark Hicks said.
Changing places will also be available at soon to open Heathrow Terminal 2, The Queen's Terminal, and will be added to Terminal 3 and 4.
The waiting lounge in the departures hall of T5 has also been renovated. It is now located in a quieter area, opposite to Gate 20 and 21. 
The special assistance waiting area, named Lichfield Lounge, features the accessible changing place suite, two accessible toilets, TVs and a Costa Coffee service point.  The seating area has increased capacity to meet the needs of all passengers at peak traffic time. The Lichfield Lounge is always manned by at least one special assistance agent.
During Reduced Mobility Rights walkabout of Terminal 5 in the Summer of 2013 we voiced our concerns about the transit lounge facing the main immigration area.  We were delighted to learn that Heathrow took our concern at heart, refurbishing the area.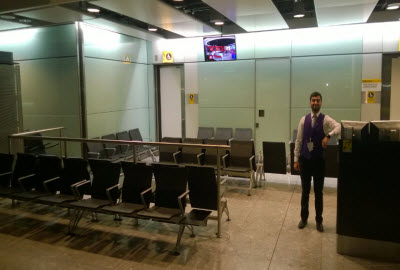 The open space waiting area has been moved to a quieter spot, and features direct access to accessible toilets and TV screens.