Satellite Imagery Of Alleged MH370 Debris Inconclusive
Written by George Sensalis
The search for Malaysia Airlines flight 370 continues following the release of inconclusive satellite imagery by the Australian government.
Satellite imagery of debris released on Thursday by the Australian government is inconclusive. There is no certainty images taken by a commercial satellite on March 16 captured debris of the missing airliner, which disappeared in mysterious circumstances in the early hours of March 8.
Bad weather is hampering attempts made by at least four specially equipped aircraft to clearly identify debris. A Royal Australian Air Force Orion dispatched to investigate failed to find the field of debris, the Australian Maritime Safety Authority said.
Flight MH370 carried 227 passengers and 12 crew members when the Beijing bound Boeing 777-200 went missing shortly after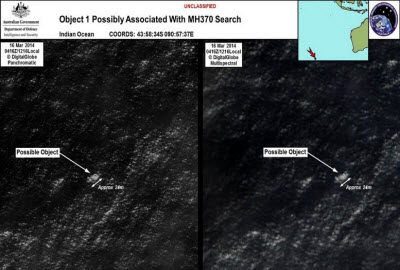 taking off from Kuala Lumpur in the early hours of March 8. 
The aircraft disappearance is the most intriguing mystery in the history of commercial aviation. Despite mounting speculation, the only certainty is that the aircraft and its passengers, crew, and cargo disappeared from radars over the Gulf of Thailand, shortly before entering Vietnamese airspace. What really happened to flight MH370 can only be determined if and when the aircraft, or its wreckage, will be found.
Over 20 countries joined together in the largest search and rescue operation in recent history. "Our thoughts and prayers are with the relatives and families of all missing people on-board MH370," Reduced Mobility Rights management said.