Easyjet To Introduce Aisle Chairs From September 2014
Written by George Sensalis
Low cost carrier easyjet will make on-board aisle chairs available on all its aircraft from September 2014, the airline CEO said on Monday.
The announcement was made during the quarterly meeting of esaag, the easyjet special assistance advisory group. The group, chaired by David Blunkett MP, provides easyjet advice and guidance on welfare, requirements and trends on assistance to passengers with special needs.
Carolyn McCall, easyjet's CEO, was guest of honour at esaag's meeting. During the session, she announced the airline is now phasing out cabin crew manual assistance, switching to on-board aisle chairs to better help passengers with severe mobility limitations move to and from lavatories.
The airline aims to start rolling on-board aisle chairs on its fleet from September 2014. Aircraft with new cabin interiors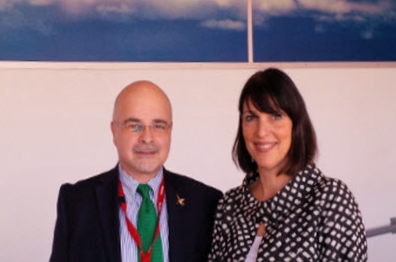 also feature movable armrests on all seats, to further facilitate the seating process for passengers with reduced mobility.
Easyjet management praised David Blunkett and the group for the positive influence esaag had promoting the adoption of these facilitation features. Carolyn McCall also remarked the role of esaag in giving important feedback on the airline's website accessibility, the pre-notification process, the easyJet App, and its contribution to important themes such as eAccessbility, boarding processes, airport services and in-flight requirements.
"David's guidance has been crucial to help esaag make the case for these improvements," Reduced Mobility Rights editor-in-Chief Roberto Castiglioni said. "easyjet is positively evolving thanks to its management's vision on inclusion and commitment to further improve the in-flight experience for people with special needs." Castiglioni is a member of esaag and the esaag Airport Experience working group.