Ryanair Disabled Customers Satisfaction Survey Takes Flight
Written by Roberto Castiglioni
A survey among Ryanair disabled passengers indicates the airline is delivering on its promise to improve special assistance services.
In an unprecedented move, budget airline Ryanair granted Reduced Mobility Rights unfiltered access to its customer base. Last month, customer service management of the largest European airline and the leading organization in promoting access to air travel for passengers with disabilities sat down together and crafted a survey to take the pulse of customer satisfaction among passengers with special needs. 
The Survey was emailed to Ryanair customers who had flown during the month of February 2014. By the end of February, 458 passengers with special needs replied.
Slightly over 95% of all replies came from passengers with mobility impairments, approximately 2.5% from passengers with sensory limitations, and 2.28% from passengers with intellectual impairments.
Forty per cent of passengers with reduced mobility required full assistance, including highloaders and Ambulifts to enplane and deplane, and assistance inside the cabin.
The first question focuses on the ease of the booking process. Recently introduced changes to the airline booking process of special assistance services contributed to a dramatic increase in pre-notifications that have reached 94.89%. Eighty per cent of passengers booked via the Ryanair website, 14.89% through the special assistance phone line. Only 5,11% showed up at the airport without pre-notification.
On 11 April 2013 Ryanair upgraded its online booking process, introducing a drop down menu on the special assistance
page so that customers can tell the airline the exact type of assistance they will need without having to call it in. In addition to the dropdown menu, a chat appears after 15 seconds on the special assistance page during reservation opening hours, subject to agent availability. Through the chat passenger can customize their request for assistance.  
"The special assistance team are well trained, respectful, aware of problems faced by disabled passengers," a British passenger said about his experience with the booking team. 
However, non English speaking customers found booking via phone not too easy. "Perhaps the airline should think of improving its phone assistance service," an Italian passenger said.
The following questions of the survey divide the travel journey into three segments: assistance at the airport of departure, in-flight, and at arrival.
Service provided by the Special Assistance provider at the departure airport 
Excellent  66.96% 
Good  24.61%
Average  3.33% 
Poor  5.10%
"When I said that I could not walk because of a broken ankle, they told me to wait until somebody comes to pick me up. This guy who came didn't bring wheelchair with him. So I needed to walk a long way," a non British passenger complained. 
"Unfortunately, I never got on the plane because by the time that I and another passenger on that flight arrived at the gate it was already closed," an Irish passenger said.
One negative comment is one too many, but positive comments definitely outnumber the former. 
"Very efficient staff and very friendly we just would not have been able to travel if we did not have the airport assistance as the long walks are just too far for us," an elderly passenger said.
"Everyone was very pleasant and helpful. It made the whole boarding procedure for my husband so easy," a British lady commented. "Everything went as planned, friendly and helpful staff and the service was just excellent," another satisfied customer said.
Service provided by the Special Assistance provider at the destination airport
Excellent  64.13%
Good  26.23% 
Average  4.93%
Poor  4.71%
"At Charleroi assistance personnel where very rude and unwilling to bring the Ambulift I needed to get off the airplane," a
Belgian passenger complained. "Although I am blind passenger, Berlin SXF staff who boarded the plane was unable to offer assistance," a German passenger said. "There was no wheelchair available for my Mum when she arrived back in Dublin," an Irish passenger noted.
These complaints enable the airline to pinpoint areas of concern within its network of airports. Refreshingly, just like with comments on departure airports, praises widely outnumber complaints.
"Once again, attendants were very courteous and polite and nothing was too much trouble," a pleased Ryanair customer said. "When the aircraft parked and the stairs were in place the assistance agent was waiting for me," another happy passenger said. 
"I was making a connecting flight, the lady who met me off the first flight took me all the way to the boarding gate for the next flight, she also called ahead to tell them that I was on the way  and again I was treated so warm and friendly," a third passenger commented.
Service provided by cabin crew during boarding and in-flight
Excellent  52.02% 
Good  37.22% 
Average  7.85% 
Poor  2.91%
The in-flight portion of the journey is the one with the lowest percentage of disappointed customers. "The wheelchair at Stansted took ages to get to the plane and I was sitting alone in the plane with one hostess who stayed with me but let me know that I was holding up the reloading for the next flight out," a British passenger complained.
"Our group was split and left to struggle down a narrow aisle to the middle of the aircraft. Even though the plane had several empty seats that could accommodate all we were refused that option," another passenger complained.  Seating allocation and lack of flexibility to change seats are the most common complaint.
However, like in the two previous segments of the journey, praises far exceed complaints. 
"Service has improved so much since I became disabled six years. It was a horrible experience then. It is a comfortable pleasant experience now. It gets better every time. Keep it up," a happy customer commented. "Surprisingly I found the Ryanair staff really pleasant, friendly and they went out of their way to be helpful," another satisfied passenger said.
"It is difficult travelling with a disabled person and Ryanair make it as pleasant as possible," the carer for a passenger with special needs noted.
The overall customer satisfaction expressed in individual questions is confirmed by the overall perception of the experience, with 87.17% defining it between good an excellent, and the intention to fly Ryanair for future travel, 95.49%.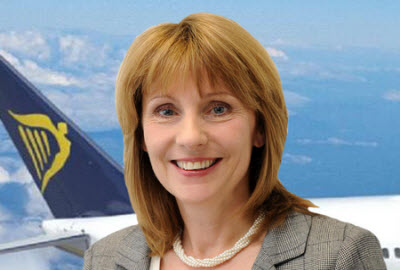 Ryanair's Head of Customer Services, Caroline Green, and her deputy, Fiona Kearns, are the team leaders spearheading the airline's effort to improve the journey for passengers with special needs.
Caroline and Fiona are strong, determined professionals who work hard to ensure Ryanair delivers the best possible experience to customers who need assistance when traveling by air. "We need to do it right for them," is Caroline's motto.
The survey shows that their hard work is paying off. Like in every business, process and procedures always find room for improvement. Like in all human activities, there will always be room for error, like the following unusual complaint reveals. "No food on flight, wrong aircraft had been restocked, so we had very little food," a passenger with special needs complained.
However, the bottomline is solid, and the future looks bright. "It is difficult travelling with a disabled person and Ryanair make it as pleasant as possible," the carer for a passenger with special needs noted.
"The whole operation was seamless, very good experience, thank you to all who helped, people are very quick to complain but not very quick to give praise were it due," another passenger noted.
The comment of a British passenger sums it all up. "I think Ryanair is trying to improve and it is working. "