Scottish Government Takes The Lead Promoting Equality In Air Travel
Written by Roberto Castiglioni
On 23 January, following a debate on a motion lodged by Neil Findlay MSP, the Scottish government has taken the lead in promoting access to air travel.
"The case that has been highlighted today shows that, despite the existence of European Union regulations that require airlines to provide assistance in moving passengers to toilets and providing information on access limitations prior to travel, the legislation needs to be better understood by airlines and travel agents and better publicised to passengers," the Scottish Minister for Commonwealth Games and Sport Shona Robison said at the end of the debate on Neil Findlay's motion on airlines discriminating against disabled people. "For our part, we will continue to put disabled people's rights at the top of our agenda. After all, it is our duty to implement the UN Convention on the Rights of Persons with Disabilities and to monitor progress. We will also continue to work with the CAA, airlines and airports to ensure that disabled passengers and passengers with restricted mobility have a comfortable and safe experience when travelling to and from Scotland."
An incident involving MS sufferer John Findlay on a Jet2 flight triggered the debate. Last November, Mr Findlay lodged a complaint with the UK CAA against budget airline Jet2 and Glasgow based Barrhead Travel, who allegedly told the passenger that an on board wheelchair would be available on Jet2 flights.
"I asked the travel agent if there was an aisle chair available on Jet2.com aircraft and I was told yes," the MS sufferer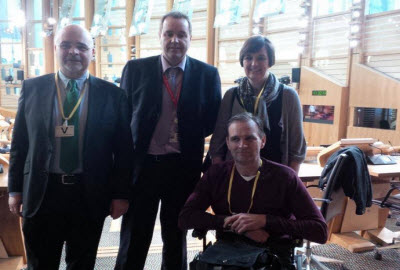 said. "Had either the passenger, or the travel agent, contacted our Mobility Assistance Department prior to travelling we would have been able to advise  that this was not something that we provide," a customer service manager for Jet2 said. Mr Findlay alleges that cabin crew declined to help him get to the toilet, a requirement under air travel equality law.
"The provision of information by airlines and travel agents is clearly of significant importance. A 2013 audit of selected travel agents' websites assessed that only 10 per cent of them provided sufficient information to disabled passengers. That is a clear marker that a lot of hard work remains to be done to ensure that disabled customers are provided with the necessary information before flying," Mrs Shona Robison added, quoting Reduced Mobility Rights audit on information travel agents' websites provide passengers with special needs. "I understand that the Civil Aviation Authority is considering these issues, which is an appropriate course of action."
Participation to the debate shows that the entire Scottish parliament supports the cause for promoting equality in air travel.
Rob Gibson, Caithness, Sutherland and Ross (SNP), mentioned an incident involving one of his constituents. "She suffers from MS and was attempting to fly from Wick to Edinburgh on Flybe," Mr Gibson said. "My constituent called the Flybe call centre to book special assistance on that flight but was told not to turn up for it, because as Flybe then knew that she needed assistance, legally she could not travel, as it had met in full its quota of people needing assistance. It is necessary that we ensure that people such as my constituent are not treated as she was and that we all get together to back the campaign for reduced mobility rights and turn the situation into one of rules rather than privileges."
"The point is that action can be taken now; there is no excuse for inactivity and delay. While I am sure that companies can do things that are much more imaginative as they renew fleets, something should be done now. He rightly made the point that space and cost are the excuses that are used, but frankly those excuses can be dismissed—we see that Ryanair has aisle chairs—despite what the other airlines may say,"  Jackie Baillie, Dumbarton, (Labour) said.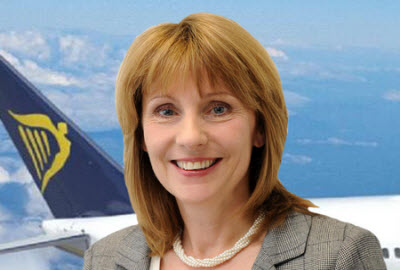 "It is very encouraging to hear that many airlines are extremely successful in dealing with the problem. Ryanair was included in the list of airlines that have on-board aisle chairs. Dare I be the one who makes the joke that suggests that Ryanair will stop at nothing to get an extra seat on an aircraft? However, in this case it is an example of a low-cost airline that can achieve the objectives within the low-cost business model," Alex Johnstone, North East Scotland, (Con) said. "It is also vitally important that we ensure that travel agents do all that they can to give accurate information. There is nothing more annoying than situations such as the one that Neil Findlay described: when someone checks in advance that the equipment and service is available and then, when they are on the plane, they discover that in fact that is not the case. Inaccuracy of information is one of the largest parts of the problem."
Members of the Scottish parliament mentioned the report "Up in the air" published by the Trailblazers group in October 2012. The report, highlighting some of the issues discussed yesterday, gained public attention but did not trigger any significant improvement in the way airlines and airports provide support to passengers with mobility limitations. "I thank the trailblazers group, the Muscular Dystrophy Campaign, and Roberto Castiglioni of the Reduced Mobility Rights campaign for their efforts to improve the rights of disabled travellers," Neil Findlay said.
"I am glad that Neil Findlay has been able to bring the issue to Parliament. He has identified a problem and he has identified a solution, which is inexpensive and can be effectively introduced quickly, without damaging the business model of our most successful low-cost airlines," Mr Jonhstone said. "I therefore think that this is a perfect opportunity for everyone in a position of authority on this matter to get their heads together and get something done at short notice, to ensure that no passenger who boards an aircraft in Scotland, the UK or across Europe has to suffer such indignity. Perhaps, even with the difficulty of worldwide regulation, we might get this spread across the world."
"Let us at least have on-board aisle chairs—Ryanair, Monarch, Thomson and Virgin all do it. There is nothing to prevent the other airlines from following suit. Let us get the industry to take action to make travel easier for disabled people. It does not take a lot of effort or money and it is absolutely the right thing to do," Mrs Baillie said.
"I am more than happy to use this debate to ensure that those organisations, agencies and businesses are well aware of the Parliament's views on this matter. If we can make some progress on that, this debate will have been very worthwhile indeed," the Scottish Minister for Commonwealth Games and Sport Shona Robison said.
"In this year of all years, when the Commonwealth games and the Ryder cup are coming to Scotland and disabled passengers will come from all over the world to visit Scotland, every airplane landing in Scotland with over 60 seats that is capable of carrying on-board aisle wheelchairs should have them. That would allow every passenger to travel with some level of dignity," Neil Findlay said.
The debate can be viewed online on BBC Democracy Live (click here). BBC Radio Four will cover the debate in the You and Yours programme airing on 24 January.